Sunday 25th October. Ride to West Stoke. AGM.
The official ride today was quite short from Chichester Cross to West Stoke Village Hall for the Group's AGM. Alan was the leader and he was joined at the Cross by Liz, Harvey, Avryl, Gill and myself (Edwin) Many more made their own way direct to the Hall, most by Bike with a total of 20 at the meeting.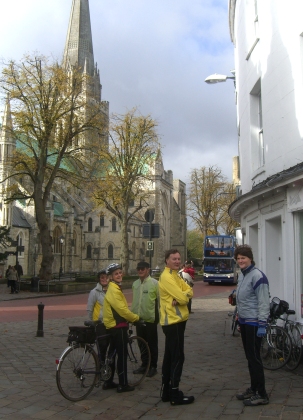 The weather today was mainly sunny and warm for late October with temperatures up to 16C but with a strong SW wind.
Alan led us west out of Chichester and then up the Centurion Way. This was decorated with a carpet of fallen leaves often making it hard to see the path.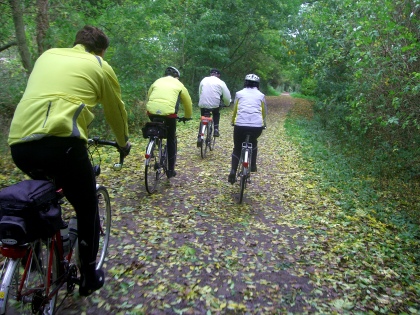 We continued up to the northern part of Lavant and then a lane to the West Stoke Road and on to the Hall. There were a few changes in the Committee. Arthur was elected as the new Chairman. Mary officially joined the Committee as Social Secretary with Dave as Deputy. Freda joined the Committee. Other posts in the Committee remained the same but Alan gave notice that after 21 years he would serve this coming year as Treasurer and then retire.
The official business started at 10.40 and finished at 11.30, so 50 minutes. We then got on with the serious business of teas and coffees served by Mary and Avryl and picnic lunches.
I suggested extending the ride by going over to the Partridge Inn in Singleton to join Arun Adur. I had only 2 takers, Colin and Gill. We rode there direct on the main road. The Arun Adur group comprised Richard, John Wickens, Dave Galle, Dave Fox and Tony Yorke. We had a chat while they had their lunch and then joined them for the return ride. Most of them were headed back towards Littlehampton.
Richard was the leader and led us back towards Charlton. I took a picture as Dave Galle was taking a picture of the group with his mobile.
We continued on the Valley road via East Dean and Upwaltham. Then it was over the Downs on the main road and a long downhill cruise to Eartham. After a short climb out of Eartham we turned off on the lane to Slindon and another nice downhill.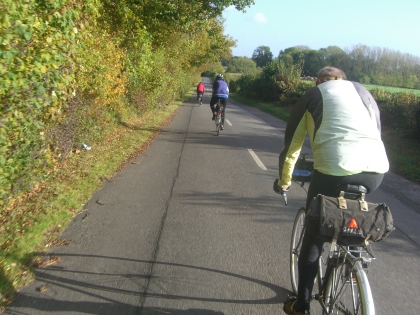 We turned off at the bottom onto Slindon Bottom Road. Here Dave Galle left us to head home via Amberley. Colin joined him to put in a longer loop before going home. The rest of us continued on the lane through Slindon Woods and then the underpass to Fontwell and down to Walberton. Gill left here to head home. I continued with the group as far as Yapton. While they headed back to Littlehampton I headed home along the coast via Middleton and Felpham.
The official ride distance from and back to Chichester was very short, about 10 miles. My mileage for the day was 38.
Edwin
Posted by RideLeader at 18:59 BST
Updated: Sunday, 25 October 2009 19:08 BST