Sunday 11th October. Ride to Stansted.
Arthur led this ride and he was joined at the Cross by Lynn, Dave, Jan, Colin, myself (Edwin) and 3 friends of Arthur from the Moulton Club. Chris just made it in time arriving as we were leaving from Bell Ringing at the Cathedral making it 10 out on the day.
Weather started with light drizzle just clearing up by 10.00. It was dull all day with more light drizzle in the early afternoon. Temperatures were about 15C.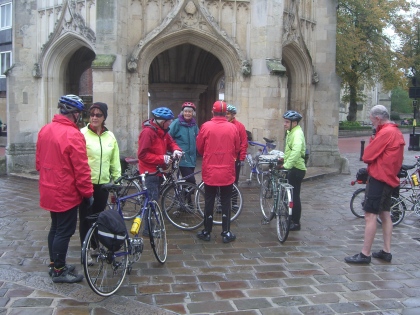 Arthur led us out on Clay Lane and the South Coast Cycle Route. Then it was down to Bosham and the cyclepath alongside the main road to Southbourne. Then we took lanes through Prinsted to stop for elevenses at the Boaters Bar.
The ride today was due to go to Hayling Island. However with the weather still threatening and as we were running a little late and nobody had arranged to meet us at lunchtime we decided to divert to Stansted for lunch. Jan and Chris turned back here to get home early.
Arthur led the rest of us via Emsworth and back streets to Westbourne and then up to Stansted for lunch. Colin left us here to get in some more serious miles in the hills.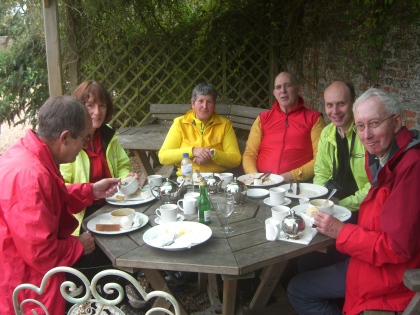 After lunch we headed back via Westbourne and Woodmancote on the South Coast Cycle Route. Just before Chichester we cut down to Fishbourne for tea at the Roman Palace Tea Rooms.
Mileage for the day from and back to Chichester was 24. My mileage was 36.
Edwin
Posted by RideLeader at 17:16 BST