Sunday 20 September. Ride to the Horse & Jockey, Hipley.
Today the ride was an Awayday Ride meeting at Petersfield Railway Car Park. It was probably not the best day for it with engineering works at Havant meaning no trains from Chichester to Petersfield and the Revival Meeting at Goodwood bringing traffic round Chichester down to a crawl. Our leader Avryl got there by car and Linda and I rode over there with Linda being about 10 minutes ahead of me on the same route via Rowlands Castle and Buriton. Jan met us later at elevenses so 4 out on the day, 3 ladies and 1 gent.
Avryl had a little problem. She had got her bike out of the car with the keys still in there and had shut the door. After a delay, an automatic locking mechanism had then locked all the doors with the keys still inside. Too much electronics in cars these days. This was sorted later after lunch as Jan who lives nearby in Clanfield agreed to Drive Avryl and her bike home to pick up her spare keys and then drive her back to Petersfield to pick up her car.
The weather today was dry but generally cloudy save for about an hour in the morning when it cleared to blue skies. Temperatures were about 18C.
Avryl led us south out of Petersfield to get to the little lane to East Meon. As we approached a right turn to this lane some Bike Event Marshalls stepped out to stop oncoming traffic so we could turn right. For the second Sunday running we had come onto the route of a Sportive Ride. This was the South Downs Challenge Sportive with 40 and 80 mile routes starting from Southwick. As we cycled up the lane we were passed by riders either singly or in small groups. We turned off their route later to climb up to HMS Mercury but we came across a lot of signs for various parts of their route during the day.
At the top of the climb we met Jan coming up from Clanfield and continued to the Beech Café at the Sustainability Centre. Here we met a big group from Winchester CTC. Some very good cakes were enjoyed to refresh the energy supplies.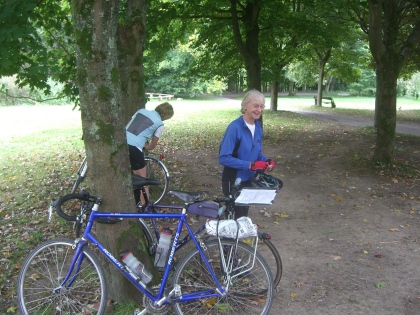 We continued along the ridge and then dropped down on a series of pleasant quiet lanes with most of the way to lunch a gentle downhill.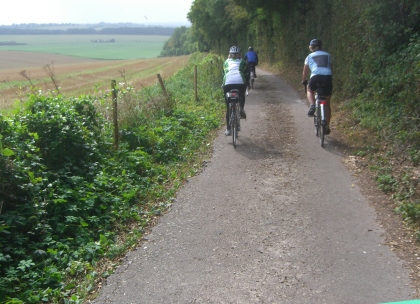 After lunch at the Horse & Jockey Hipley we took more lanes before stopping at Jan's house where Avryl was to gain her lift back. Linda and I continued back to Chichester via Clanfield and Rowlands Castle choosing to miss out a tea stop.
The official ride distance was 20 miles. My mileage from Pagham was 74.
Edwin
Posted by RideLeader at 20:19 BST