Sunday 6 December 2009. Ride to Nutbourne
Weather today started with torrential rain. However the Weather Forecast and Internet weather radar promised a clearance and a good day to come. So it proved and the rain had cleared by 9.15 at Pagham giving me time to get to Walberton for the start at 10.00.
I got as far as the A29 and there was a sign, Woodgate Crossing closed so the direct route was blocked. I might have got through on a bike but it was 3 miles up there and 3 miles back. I decided to retrace to Bersted and then lanes via Colworth to Westergate. I was 20 minutes late at the start but with clear blue skies and a rare chance to get out on the bike after many days of rain I pressed on. I headed up to cross the A27 and a rare sight, not a car in sight. The A27 was closed on all carriageways in both directions between Fontwell and Arundel. Signs indicated it was closed due to a Traffic Incident. I later learned on the Internet that this was due to 2 car crash near the White Swan at 9.00am with 3 people trapped in cars
With the A29 and A27 closed one could be fairly certain of a large amount of traffic chaos in the area. Traffic was being diverted up to Whiteways and then down to Fontwell so I was glad to get away from it all onto the quiet Madehurst lane.
Then it was a fast descent to Houghton with parts of the Arun Valley clearly flooded south of Houghton. The torrential overnight rain was on top of a record rainfall over the last month. After Amberley I had clear views of the large lake stretching across to Pulborough. It did occur to me that if the Arun Crossings Ride had been today we would all have needed Pedaloes.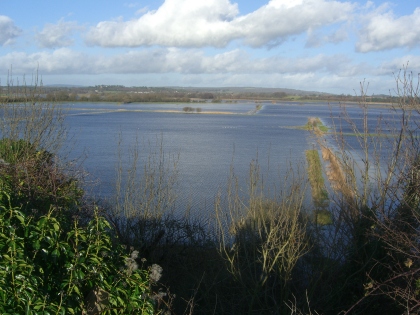 I continued to Wiggonholt for elevenses and just as I arrived there so did Alan and Liz after driving there. We were about to leave when Anne arrived. She had been late starting so came over direct. We all went on to The Rising Sun, Nutbourne for lunch. Nobody arrived from Walberton so presumably Harvey had nobody turn up.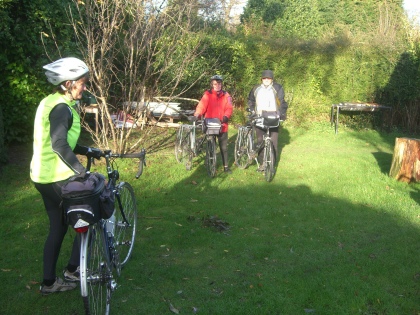 After lunch Alan and Liz did a circular route to make a worthwhile ride back to Wiggonholt. Anne and I headed straight back via Amberley and Houghton. Anne headed home via Eartham while I headed back via Walberton and Westergate. I was able to get over the Crossing and stopped off on the way back to look at the lake across Shripney Lane. This has been flooded for more than a week now.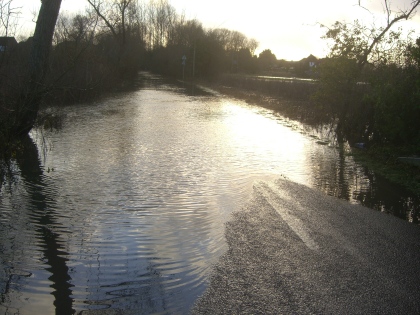 As it looked to be over a foot deep I decided not to get wet feet and retraced and took the diversion.
My mileage for the day was 52.
Edwin
Posted by RideLeader at 17:50 GMT
Updated: Sunday, 6 December 2009 17:56 GMT