Sunday November 8th '09. Ride to Stedham
Five of us met at Chichester Cross on a dismal cold grey morning following heavy overnight rain - Edwin, Colin, Gill, Anne and Avryl. Our destination was The Hamilton Arms at Stedham.
We set off along Clay Lane to Funtington and then West Marden to Compton where we stopped for a welcome coffee at the village store.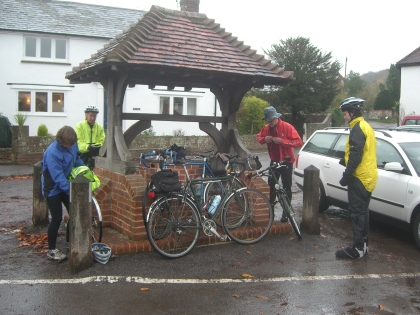 It had started to rain just before we reached Compton and a light drizzle then continued until we reached Stedham. The pub was very busy and only one table was not layed for lunches but fortunately we had arrived at 12.0.and so took it over. We could have auctioned it before we left!
In the afternoon the rain had stopped and the sun weakly appeared before reaching home. We had a delightful ride along quiet lanes to Cocking via Bepton and then up Cocking hill and down to West Dean for tea. We returned to Chichester along Centurion Way which was initially very puddly, meeting many dog walkers enjoying the improved weather.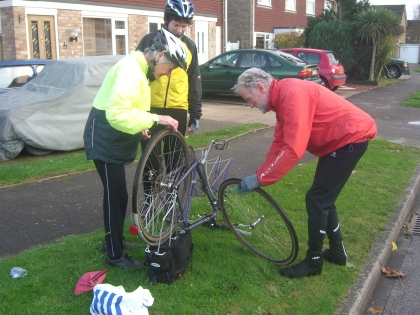 Colin mends Avryl's puncture at Lavant
Mileage...36mls.
Avryl
Posted by RideLeader at 12:22 GMT