Sunday 27th September. Ride to the Lifeboat Inn, Selsey.
There were 2 rides today, a long hilly ride starting at Walberton at 9.00 and a short flat ride starting at Chichester at 10.00 with both rides meeting at Selsey for lunch. I joined the long ride meeting at Walberton. The Ride Leader was Gill and we were also joined by Anne and Steve Thomas.
The great weather continued today with clear blue skies light winds and after a chilly start temperatures reached 21C in the afternoon.
Gill led us via Fontwell and then through the woods on Slindon Bottom Road. Then it was over the Downs via Eartham with many autumn colours starting to show. With great clear views we descended to Upwaltham and then on to a fast descent down Duncton Hill. We turned left to take the lane to the College.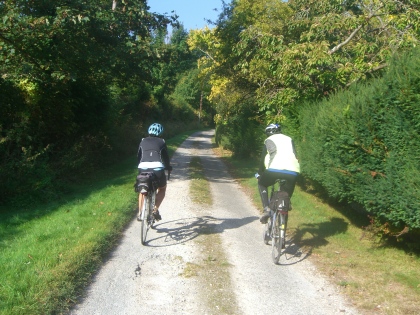 Then it was through the College grounds and on to Graffham by soon after 10.00. Then it was more lanes to Heyshott and the narrow back lane to Cocking. We stopped for elevenses at the Moonlight Café, Cocking and seemed to be their first customers of the day.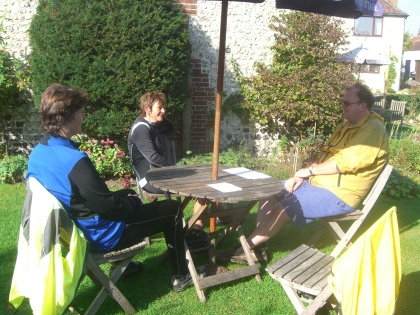 After the climb up Cocking hill it was a fast descent on the main road to Singleton and then Lavant. We took lanes past the motor circuit and then a dash across carriageways of the A27 near Westhampnett. We took lanes via Merston and South Mundham to the Route 88 cycle route to Selsey. From Sidlesham it was a fast ride down the busy main road to Selsey.
We met at Selsey with the flat ride group led by Avryl who was joined by Harvey and Peter Wilson. Freda and Jim, Kath and Alan had joined them as far as elevenses so a good turnout altogether. My mileage as far as lunch was 48.
Anne, Gill, Steve and I all had sandwiches which we had on the nearby Selsey seafront. The Pub was packed. Peter and Avryl waited an hour for a meal and ended up giving up and getting their money back.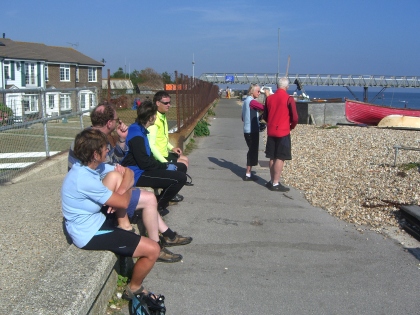 After Peter and Avryl had a look at the Lifeboat we all rode back together on our inbound route up the Cycle Route with a few Gates to sort out.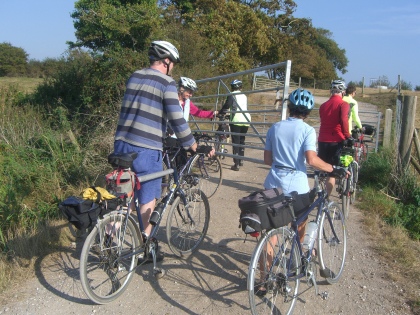 I turned off near South Mundham to head home while the rest headed to Chichester for Tea at the Canal basin.
My mileage for the day was 57.
Edwin
Posted by RideLeader at 18:03 BST