Friday 1st January. Ride to Amberley.
Today was bright and sunny all day but barely managed to get much above 3C with a bitter northerly wind.
I was worried about ice so I left a little later and went direct to the Pub for lunch.
At the Pond Anne, Ernie and Phil and Verna from Worthing met. They took the usual route via Madehurst and Houghton. We met a lot of riders from Arun Adur at the Pub, Richard, Dave Fox, Brian and Sue, Dave Fox and Graham.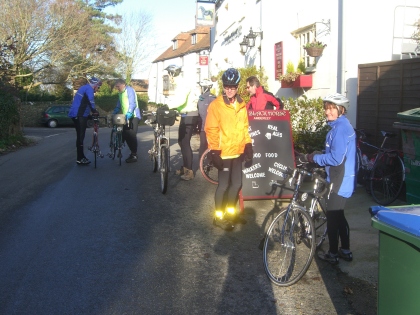 On the return ride Phil and Verna rode over the Khyber Pass with Richard while Anne John and I rode back via Houghton Hill.
Edwin
Posted by RideLeader at 19:42 GMT
Updated: Saturday, 2 January 2010 19:45 GMT