Sunday 1 December. Ride to Hunston Christmas Lunch
Today the weather was very dark and grey but at least it was dry with temperatures up to 9 centigrade.
The ride today was to the Club's Christmas lunch and it was designated as an appetite improver ride. I was the leader and I was joined at the Cross by Sam and Arthur. John Maxim joined as briefly at the start but then went on his own ride. Arthur was out on a new road bike bought second-hand from city cycles for £250. This is very different from the usual small wheels and is very lightweight.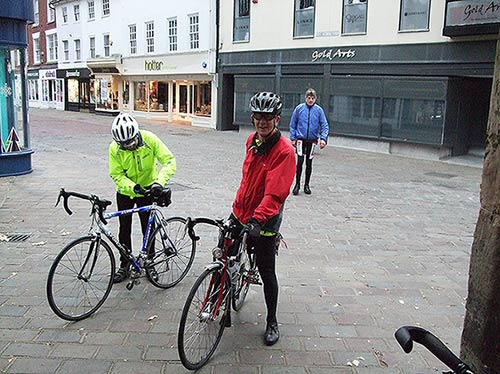 The Route out was first West from Chichester and then up the Centurion Way. Just as we started up the path Sam punctured and decided to go the short distance home to change bikes and then meet us at elevenses. Arthur and I continued on the path to Lavant. Here in order to avoid the mud further up the path we took a section of the main road and then rejoined the path to West Dean. Just before the village we turned left on the remote and hilly lane to Chilgrove. We saw a lot of a lot of pheasants and some beautiful autumn colours. Then it was on to the main road and a sharp climb. Unusually for the longer rides I was able to get up the hill well before Arthur and could therefore get into picture taking mode.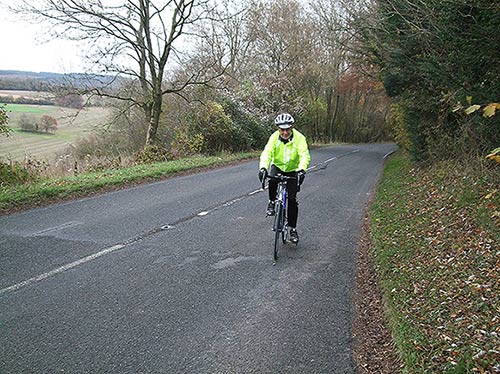 We continued on the main road and then took the next left to North Marden. After a short descent we took a right turn onto the Compton Road followed shortly by a very steep climb probably of equal gradient to Buriton. From the nearest farm I would call this Fernbeds Hill although Arthur would have another name for it which it would not be appropriate to mention on a family friendly website. Arthur had to walk part of the hill but soon got back on the bike when he saw my camera ready.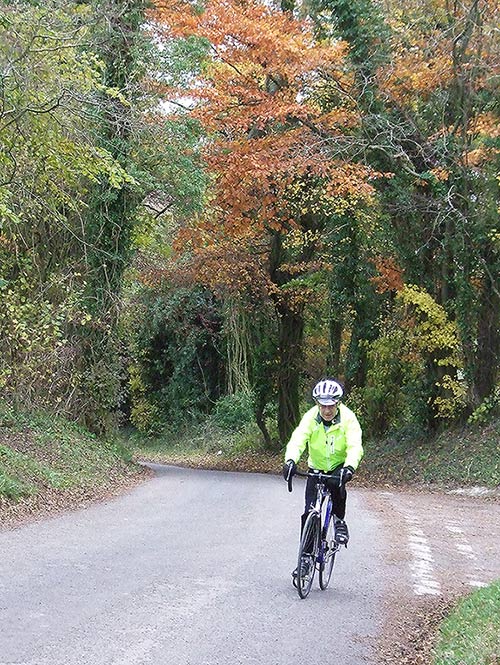 Then it was on down the lane to Compton and the village cafe to meet up with Sam. The refreshments were very welcome.
From Compton there is a long and very gradual downhill before turning off on the short Hill to Funtington. Then it was onwards and turning off onto Watery Lane to West Ashling. We headed back to Chichester on Clay Lane. Because we were quite early at this stage I decided to take a diversion and we turned off onto Apuldram lane. We stopped at a junction to get onto the main road. As I started forward the wheel went into a dip and I overbalanced and fell off. This was despite having normal pedals not clipless. Possibly it was getting a little too long since my last accident.
Luckily nothing was broken but despite having three layers on I managed to badly graze the right elbow. A kind motorist stopped and gave us an antiseptic wipe and a dressing. I was able to ride on without any problems to the lunch at Hunston.
At lunch many more came direct by bike or car including Richard, Elizabeth, Dave, Jan, Avryl, Philipppa, William, Roy, Harvey, Mike and Lynn so 14 in all.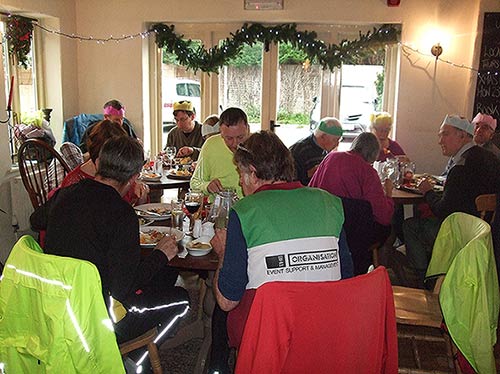 Mileage from and back to Chichester was about 35. My mileage the day was 47.
My latest image to be processed was of a suitably autumnal scene taken in woods near to Whiteways Roundabout.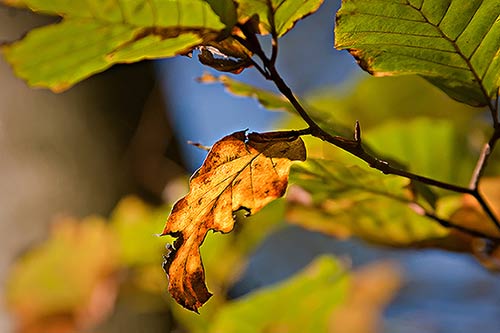 See more at http://www.flickr.com/photos/edwinjones/11097647133/
Edwin
Posted by RideLeader at 19:15 GMT