Sunday 11 April. Ride to West Chiltington. Freewheel Competition.
Seven of us met at Walberton Pond. Our leader Colin was joined by Anne, Avryl, Edwin, Gill, Harvey and Rex. Alan and Liz joined us for Elevenses and lunch and Chris Dart was just in time for the Freewheel competition and rode back with us after lunch.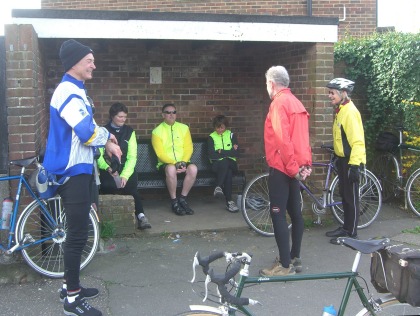 Weather was mainly cloudy with sunny intervals in the morning and mainly sunny in the afternoon. It was very chilly early on with a strong NE wind but warming up by the afternoon to about 15C.
Colin led us the usual route via Madehurst and Houghton and then Amberley to stop for elevenses at Wiggonholt. We met the rest of the DA there with riders from Horsham and Arun Adur.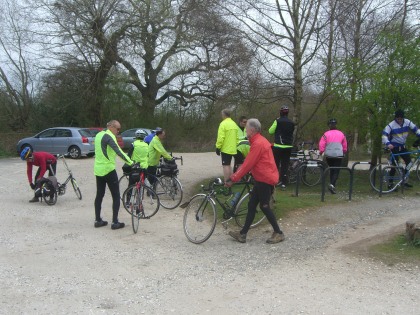 We all left together making a good sized group of about 20 making us very obvious to the motorists. We made our way to West Chiltington and then left at the X-roads to climb the hill to the start of the freewheel competition. Everybody was convinced to get together for a group photo at the top.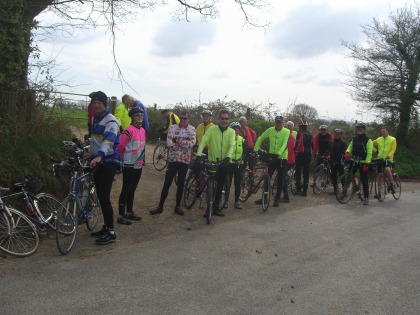 Graham from Arun Adur won it and Gill was fastest lady. 7 rode it from Arun Adur, 8 from Bognor Chichester and 5 from Horsham.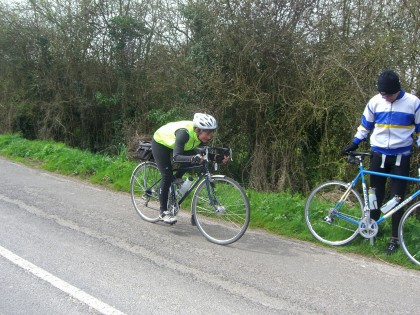 Anne, Further than last year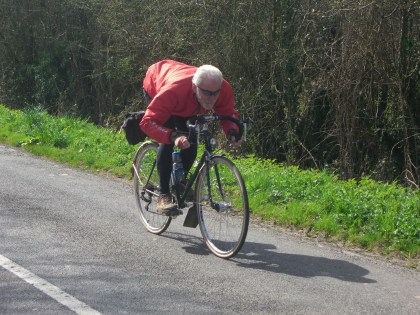 Colin Aerodynamic profile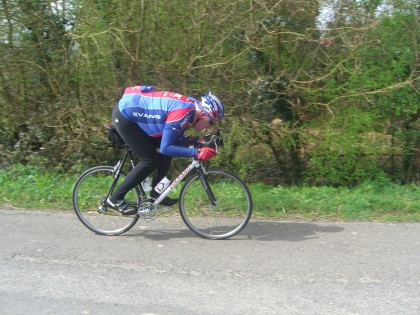 Graham, Speeding to Victory

We had lunch at The Queens Head, West Chiltington and it was really good to see Dave Galle who joined us there assisted by Louise.
After lunch the various groups split up. Colin led us on some lanes, across a sandy Golf Course and then pretty lanes to Storrington.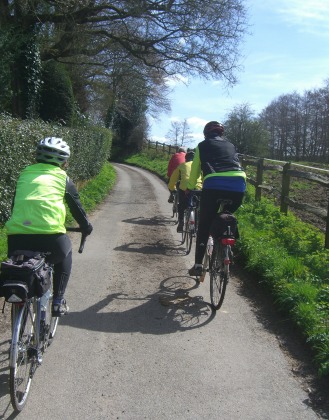 Then it was on to Parham House and then Amberley and Houghton. Apart from Anne we all went on the Khyber route with good views down to the Arun Valley.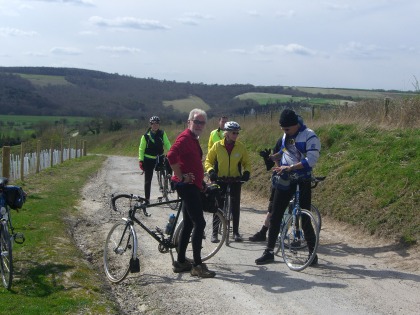 Then it was on to Arundel to the Putting Green Café. The generous portions of Apple Pie and Ice Cream served there were very welcome.
We returned via Ford with a good tailwind. I split off at Yapton to head back via Middleton and the coast. Mileage from and back to Walberton was about 42. My mileage was 56.
Edwin
Posted by RideLeader at 19:34 BST