Sunday 4th April. Ride to Midhurst.
Today the ride was led by Gill and she was Joined by myself (Edwin) and newer members Roger and Barry.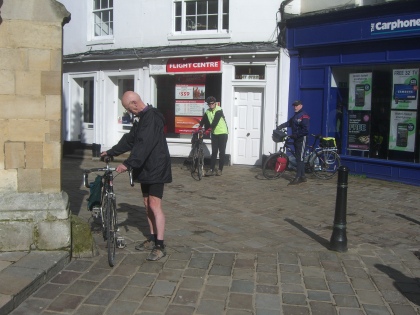 The weather was fairly good, mainly sunny and dry though with a chilly NW wind. There were bits of showers around in the afternoon but no more than spots.
Gill led us out from Chichester via Westhampnett and past the motor race circuit which was busy with a special event. Then it was on to the quiet climb up Pillygreen Hill. I spotted, pretty difficult to overlook, a new sculpture outside Sculpture at Goodwood. See picture below. Do you think that could be a specially strengthened Trike?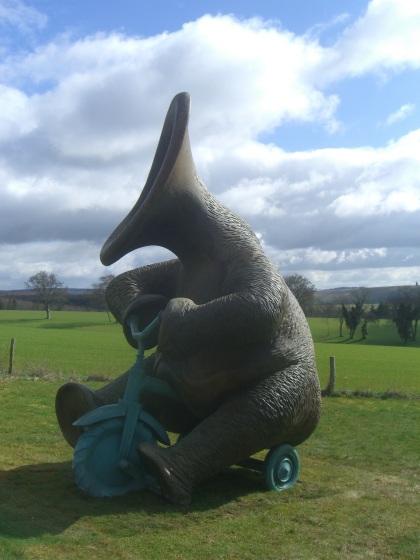 From the top of the hill we descended to East Dean and then along the valley to Singleton. Here we turned onto the busy main road north to Cocking and a stop for elevenses at Cocking Tearooms. We gave sitting outdoors a miss and warmed up inside with hot drinks and hot cross buns.
Then it was on to the lanes via Bepton to Midhurst and a stop for lunch at Ye Olde Tea Rooms. This was a good venue with some decent food at reasonable prices. Most of the tables were booked though and we got the last free one.
In the afternoon it was various lanes via South Ambersham and a fair few ups and downs on a pretty route to Graffham.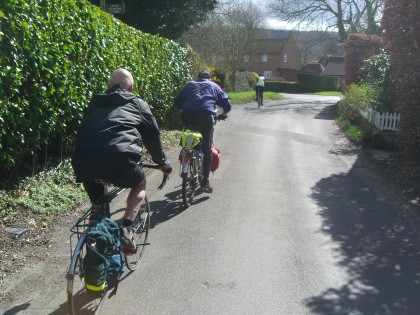 We continued via Seaford College and then the stiff climb up Duncton Hill. To make a change from West Dean for tea we headed straight down the main road to Boxgrove and Tangmere to stop at the Museum Café. This is now refurbished under new owners and they made us very welcome.
After tea we headed home our separate ways.
Mileage from and back to Chichester was about 35. My mileage from Pagham was 46.
Edwin
Posted by RideLeader at 19:08 BST