Isle of Wight Weekend. May 2010
Saturday 1st May

For this years long weekend on the Isle of Wight there was just myself, Anne, Richard Boulton and John Maxim.

Weather on Saturday was dry with sunny intervals and a SW wind.

We headed out on the South Coast Cycle Route lane with views of bluebells and smell of wild garlic.

We stopped at Havant for an elevenses stop. Then it was on via Cosham and convoluted cyclepaths and back streets to the Portsmouth Fishbourne ferry. On the Isle of Wight John took over the lead introducing us to a café we had not tried before in a craft village in Arreton. After lunch we explored the grounds including a Carp Pond.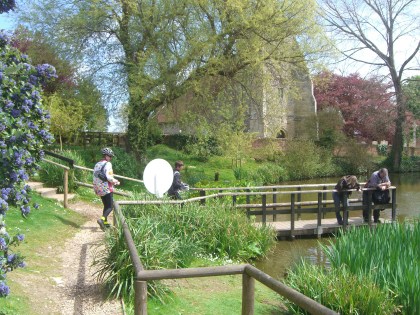 Then it was parts of the Newport Sandown cyclepath we had not tried before and lanes to Godshill for tea. Then on via Whitwell to the B&B The Brunswick House in Ventnor
Sunday 2nd May
Today had long been forecast as a washout. It was not as bad as it could have been. Some of us were woken in the night to the sound of a torrential downpour. However after breakfast it had just about stopped.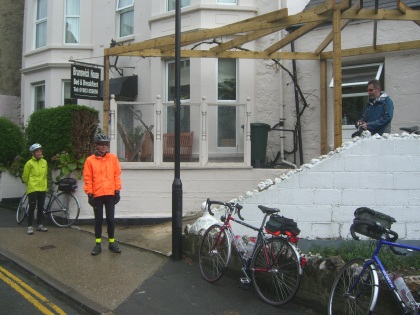 We set off for the start at Whitwell and a clockwise route this year. From yesterdays ride it was clear that the comfortable speed of John and Anne was somewhat faster than Richard and I so we agreed to split up.
11s was at Yarmouth where John and Anne were just leaving as Richard and I arrived. After 11s arranged by Yarmouth School Richard and I continued towards Cowes. The rain returned about mid morning, not heavy but continuous. We decided to take a relaxed approach to completing the circuit and went for a short-cut up the cycle path to Newport. This is now tarmaced or concrete all the way. On the other side of Newport we picked up the Sandown Cycle Path and then lanes to Godshill for tea.
We returned to Ventnor by 4.00 and completed 53 miles. John and Anne returned an hour later after doing the full circuit with 72 miles completed.
Monday 3rd May
The weather was better today, dry with cloud in the morning and sunny spells in the afternoon.
I led the return with lanes to the Garlic Farm near Newchurch in the centre of the Island for 11s. Then it was a stiff climb up Arreton Down and down to Havenstreet and a lane through Woods with Bluebells to the ferry.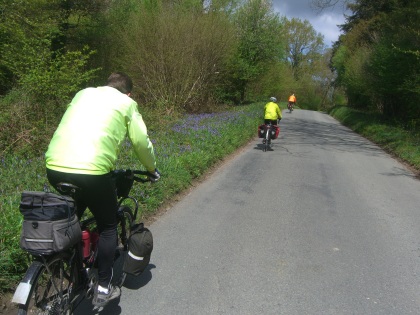 Lunch was at Rowlands Castle and we returned via Funtington, West Stoke and Lavant.
Edwin
Posted by RideLeader at 19:51 BST