Sunday 18th April. Ride to Hambledon
Weather today was excellent with calm winds, clear blue skies and temperatures reaching a summer like 18C.
The longer ride started from the Cross to Hambledon. I (Edwin) was the leader and I was joined by Avryl, Anne, Gill, Colin, John Maxim and John Parkinson a newcomer out on his second Sunday ride with us. He was out on a very smart looking recumbent trike.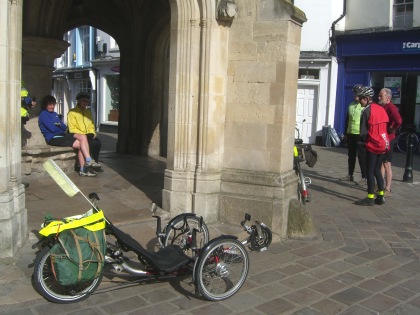 I led the group out on the South Coast Cycle Route lanes before turning off for West Ashling, Watery Lane and Funtington. Then it was across to the B Road via West Marden to stop for elevenses at Compton Stores Tearooms. We sat outside enjoying the warm sunshine.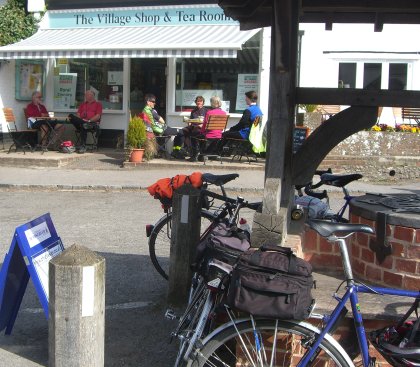 From Compton we took the lane across to the Finchdean to Chalton road. We encountered a lot of cyclists coming the other way on the John Pilbeam Memorial Ride organised by Bognor CC which had started from Funtington and was headed back there.
Riding into Chalton we rode up the first of a number of steep climbs encountered during the day. Then it was down a little before climbing up to the A3 crossing. Then down to Clanfield. John P was slower on the hills but outpaced everybody on the downhills with his lower profile. Then it was a long climb to HMS Mercury and a ride along the ridge above East Meon. From here it was a lot of meandering narrow lanes on remote downland and down to Hambledon.
We arrived at Lott's Cafe but found they were closing early so had to make do with snacks from their shop. John P demonstrated that he didn't need a seat from the Cafe.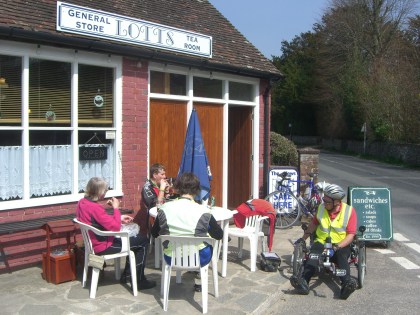 Straight after lunch it was another sharp climb on a lane. Then it was more remote lanes across to Cathrington. Then it was another very steep climb through woods over a ridge.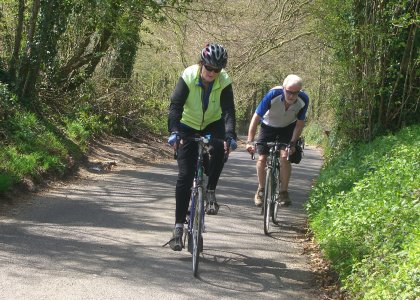 From the top it was downhill on lanes to Horndean and then an easier rolling lane to Rowlands Castle and a welcome tea stop.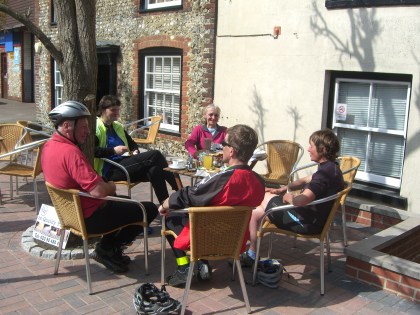 The return route was via Westbourne and the South Coast Cycle Route lanes back to Chichester. Mileage from and back to Chichester was just under 50. My mileage for the day was 62.
Edwin
Posted by RideLeader at 18:58 BST
Updated: Sunday, 18 April 2010 19:18 BST