Isle of Wight Weekend. 4th May to 6th May
Those taking part in this year's long weekend on the Isle of Wight were myself, John, Anne, Debbie and Sam.
Weather was generally good except for Saturday morning which was a strong headwind all day with some drizzle clearing to sun in the afternoon. Sunday and Monday were warm and sunny.
On the Saturday we took the usual lanes via Westbourne to stop for an early elevenses at Café Nero, Havant.
Then on to Portsmouth via the cycle route from Cosham to the ferry. On the Island we took lanes and hills to stop for lunch at Arreton. Then it was more lanes and part of the Newport to Sandown cyclepath to stop for tea at Godshill. The route to the B&B at Ventnor included a road with great views from the cliffs over the channel.
Sunday was the day of the Isle of Wight Randonnee with about 2000 taking part starting from 6 different control points. We started from Whitwell on the south coast near Ventnor. It is important to note that for this event although there is a recommended route it is only necessary to visit all 6 controls to complete it.
John and Anne were faster up hills than the rest of us so they went on ahead and I led Sam and Debbie on a route which included some judicious choices of shortcuts and hill avoidance to get Sam round who was feeling a little fragile from lack of fitness.
The first shortcut was to follow the military road along the south coast rather than the lanes a little inland. There were beautiful views of the freshwater cliffs.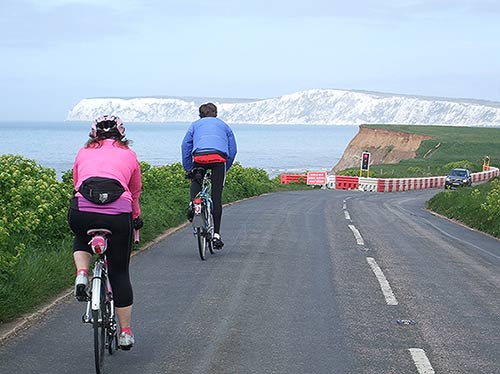 Having gone ahead of us John and Anne were initially a little nonplussed to have to overtake us a little before Freshwater. We stopped for elevenses at the Yarmouth control at a school where the tables groaned with cheap food provided by the parents, cakes for 50p.
After Yarmouth John and Anne took the official lanes route while I led the others on the main road. John and Anne had to overtake us again near Newtown thought they stayed ahead of us after that.
The route continued via Cowes, Wooton and Bembridge where there was more food. I couldn't avoid anywhere near all the hills. This was an especially sharp one near Brading.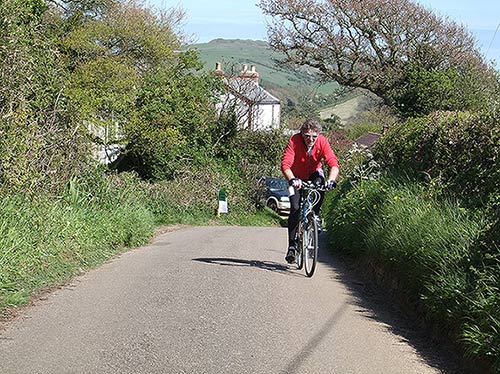 We eventual got back to Whitwell to finish the route and get our certificates.
Back at base John and Anne told us of their encounters with a man wearing only a mankini riding his bike on the short route causing a mix of laughter and alarm. Unfortunately we missed this so the man did not get the dubious benefit of Sam's sharp tongue or of my camera.
However I thought it best to try to convey a little of the situation with an internet picture of somebody modeling the garment added with some editing to a fairly suitable picture of John and Anne which I took on Saturday.
Today We headed straight back on lanes across the Island with a stop for elevenses at the Garlic Farm Cafe near Newchurch. They had on there a display of 2 Owls and a Hawk from the Islands mobile Hawk Consevancy.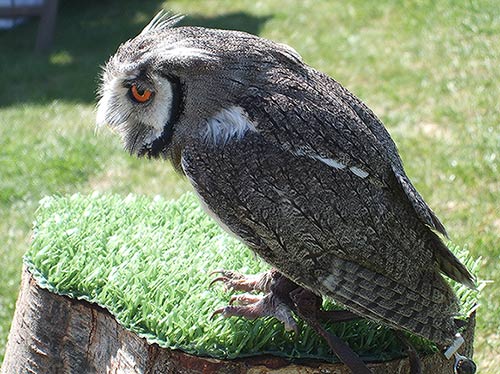 Then it was back to the ferry and Portsmouth in beautiful sunshine.
We stopped for lunch at somewhere new to most of us which was Poppins in Havant. Tea was at the Roman Palace Fishbourne.
My last HDR picture was taken on returning from the Arun Adur Tuesday ride last Tuesday, Tulips at West Dean planted by Anne merged with Blossom and Daffodils in Bognor, with all pictures taken on the same day.
Edwin
Posted by RideLeader at 21:04 BST