Saturday 13 July. Ride to Emsworth
Philippa led this ride from Chichester which was supposed to run to Stansted House Garden Centre. However due to the weather - sunny and hot, nudging 26 degrees - she was not feeling too good so we decided to divert the ride avoiding the steeper of the hills, and go to Westbourne instead.
There were 10 at the start point - Philippa, Graham, Debbie, Carol, Steve, Alan, Julian, and new riders Michelle, Sean and Terry.
We took an undulating route via Clay Lane, Hambrook & Woodmancote to arrive at Westbourne Square where we found the tea rooms had closed at 2pm. So it was on via the cyclepath to Emsworth Square where we found our 2nd choice tea rooms had also just closed. Eventually we found sustenance still available at the Flint Barn Tea rooms at Emsworth Harbour, not surprisingly doing a roaring trade.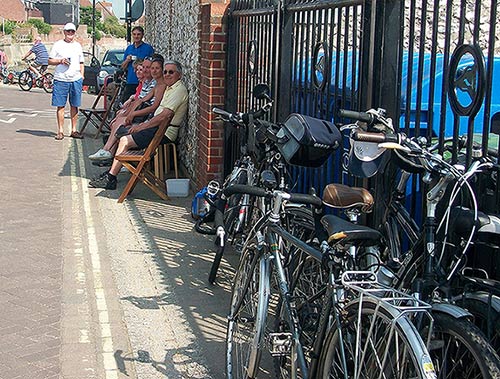 Philippa put me in charge of the return route which required a recall of the memory banks as I had not ridden this way for some time.
I took an old favourite bridleway via Lumley back to Westbourne, then along the very quiet Cemetery Lane to Woodmancote, a route which was apparently new to most people. From there it was down Newells Lane to Bosham and the cycletrack back to Fishbourne & Chichester.
The round trip from Chichester was about 20 miles; I clocked in excess of 33 by the time I got home.
Graham
Posted by RideLeader at 14:19 BST