Bognor Library to Aldingbourne Country Centre
A lovely sunny afternoon, albeit a little breezy, which kept the temperature down to about 19 degrees.
There were 8 of us out in total: Steve, Carol, Debbie, Liz, David, Mark, Phil & myself.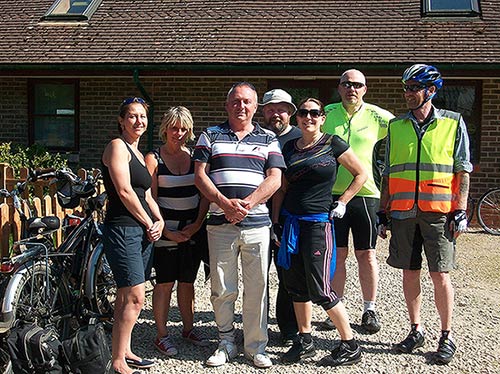 The wind was blowing North Easterly, completely opposite to the normally prevailing south westerly, so to make the most of wind assistance, I decided on a clockwise circuit.
We took a contorted route through South & North Bersted, then on to Shripney Lane where we crossed the high embankment of the Northern Relief road, construction of which is well underway.
At this point we stopped to inspect the strange scraping noise from Debbies back wheel, which turned out to be a problem with the mudguard. Despite Steves best efforts, all attempts at curing this proved fruitless; the fittings were fatally fractured and there was no option but surgery. We proceeded, minus one mudguard.
Via the usual back alleys, we turned on to the A29 for a short sprint to Hook Lane, then it was Aldingbourne Church, Norton Lane, and a hidden back route into the Country Centre after a "life in your hands" crossing of the A27. Although there was a central refuge, the traffic was running very fast today.
After dallying at the Country Centre for refreshments and a look at the Farm & the woodland trail, Mark and Phil left us to head to Tangmere.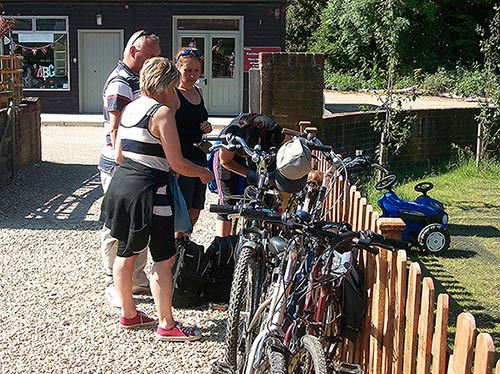 The main ride continued across the A27 again and down Level Mare Lane. At this point we met a German tourist who had taken the train to Arundel but had decided to cycle back to Chicester. Armed with only a very rudimentary tourist map, he was looking for a way to stay off the A27. We set him off in the right direction.
It was on to Eastergate Lane, then one of my favourite bridle ways to Barnham, then the Cycletrack to Flansham.
A few back roads to Bognor library, and we completed a round trip of 16.5 miles
Graham
Posted by RideLeader at 21:53 BST