Sunday 19th August. Ride to East Wittering
There were 2 rides today, a short ride to East Wittering and a long one to Hindhead. With sky high temperatures I choose a short ride to the sea with cooling breezes. Temperatures were about 25C on the coast and 30C inland.
Harvey was the Ride leader and he was joined at Chichester Cross by myself, Alan, Liz, Arthur, Lynn and 2 of Arthur's friends from the Moulton Club so 8 out on the Ride.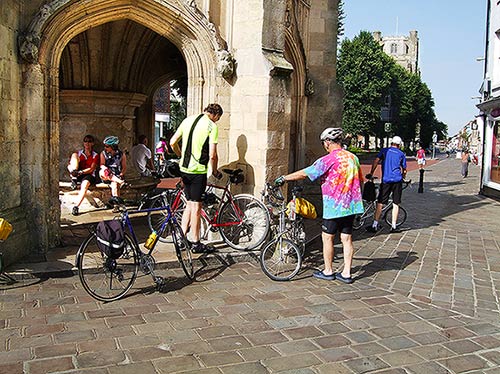 Harvey led us west from Chichester and then picked up the Saltern's Way Cyclepath to Chichester Yacht Basin. We stopped here for elevenses. Alan and Liz left us after elevenses as they needed to get back early. The rest of us continued on lanes and paths via Birdham Pool and picked up the Saltern's Way path again over to West Itchenor.
Then it was a lane south and a crossing of the Main Road to West Wittering. This was a solid traffic jam with cars heading to the beach, bikes were the better mode of transport. We continued on a quiet lane to East Wittering and lunch at the Rendezvous Cafe. Harvey and I had a picnic lunch on a green on the front. We watched the flashes of a thunderstorm out a sea. We got the edges of it with some heavy spots but from the wet roads later in the afternoon it looked to have hit land at Bognor.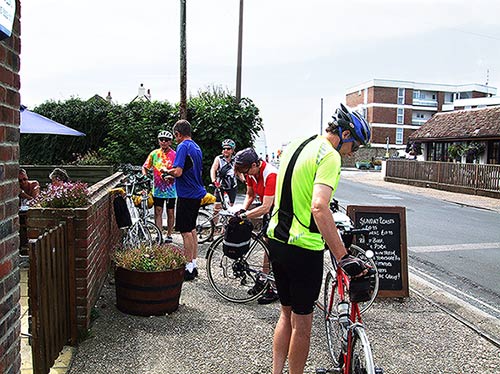 By the time we headed off after lunch the sun was out again. Harvey led us on some back streets to Bracklesham with some kids running after us shouting Wiggo. We were not quite up to that speed, maybe we need longer sideburns.
Then it was lanes via Earnley and a lane and path to come out on the main road by the entrance to the RSPB Pagham Nature Reserve. We took the cyclepath from there alongside the Harbour to Sidlesham. The tide was fully in making for a beautiful scene instead of the more usual mud flats.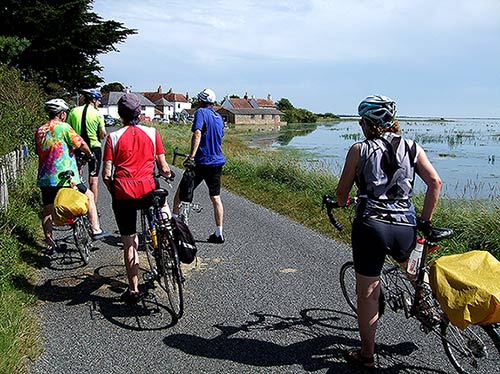 We continued across fields on the Route 88 cyclepath to Runcton and Merston and then on to stop for tea at the Brick Kiln Nursery Cafe.
Mileage for the day from and back to Chichester was about 26. My mileage from Pagham was 37.
Below is my latest picture. This is of the Rainbow Tower Sculpture in Paris taken when there to watch the Tour de France, I have used the Warp tool in Photoshop to warp and curve the base of the Tower.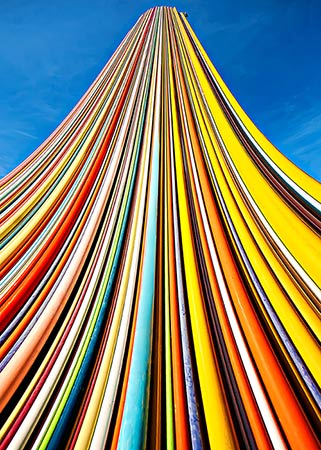 Edwin
Posted by RideLeader at 18:34 BST