Olympic Time Trial and Sunday 5th August DA Picnic
Last Wednesday I took the train up to London to watch the Men's and Women's Olympic Cycling Time Trials and of course watch Bradley Wiggins win gold.
I checked out the route on Street view and found a quiet fairly narrow suburban street to be nearer the riders with a green park as a background. This was far enough away from Hampton Court to avoid massive crowds and waving flags and cameras getting in the way of pictures.
My Union Jack was put on the railing and was accompanied by more as others arrived. The crowd here was about one deep as opposed to 6 deep on many other parts of the Course.
I set the camera to continuous shooting and a high shutter speed to get them as sharp as possible as they sped past at 30 mph. I took multiple shots of each rider and about 700 altogether. All led up to Wiggo coming past.
Below is my favourite straight out of the Camera without editing.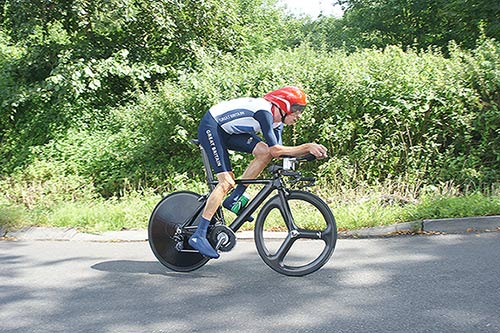 Next after about 2 hours of editing in Photoshop creating an HDR and blur effect is the final image.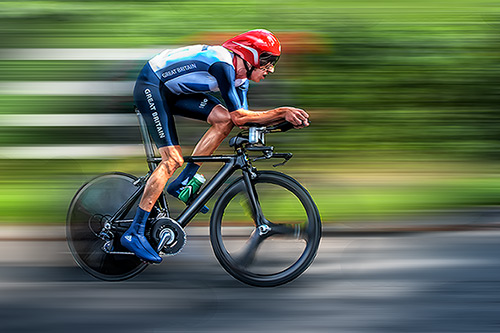 More details on my Photo Blog here
http://edwinjonesphotography.com/blog/2012/8/london-2012-bradley-wiggins-golden-ride
After the last rider went past I walked about a mile and caught the finish on a big screen.
The ride today was to the DA Picnic at Wisborough Green. The weather to start with was not too promising with a series of torrential downpours early morning until about 8.30. However in the end most of the day was dry with occasional warm sunny spells.
I was the leader and I was joined at Walberton Pond only by Samantha. However Chris joined us at Petworth and Colin Alan and Liz joined at Wisborough Green so 6 out on the day.
The route out was via Eartham and then the main road via Upwaltham and the sharp descent of Duncton Hill. Then it was pleasant lanes via Barlavington and Shopham Bridge. Either side of the Bridge there were big floods with the road looking like a river.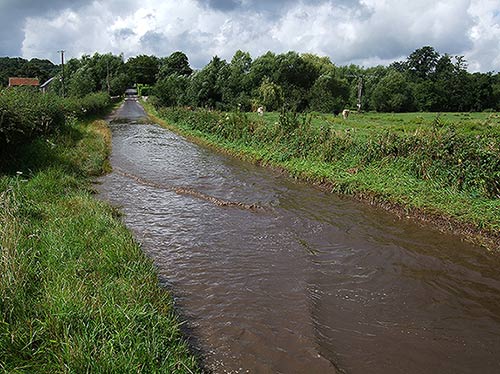 The plan was to stop at Tiffens in Petworth for elevenses but this was closed. Richard Boulton, John Maxim and Chris arrived there at the same time. We joined them and went on via Balls Cross to stop for a late elevenses at Kirdford Stores Cafe. This proved to be a good stop as soon after we arrived another torrential downpour started.
Sorry for this picture which caught some people unawares, Chris looks to be asleep and John looks to be strongly disapproving of having his picture taken.
Then it was on to Wisborough Green where we met 4 from Horsham Crawley and Dave Fox and his daughters. The weather was warm and almost pleasant for the picnic.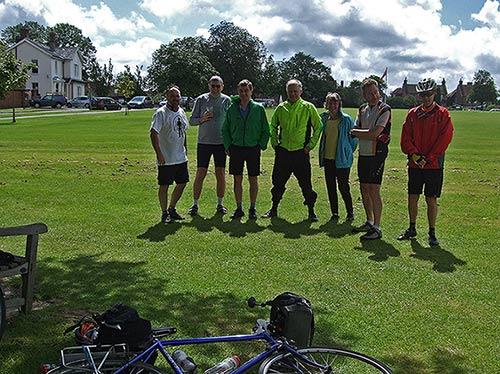 We went for a coffee at the Cafe at Wisborough Green.
The return route was via Adversane and West Chiltington and a stop for Tea at Houghton Bridge Tea Rooms.
Return mileage from Walberton Pond was 43. My mileage from Pagham was 61.
Edwin
Posted by RideLeader at 21:34 BST