Sunday 25th May. Ride to Exton
The weather today was beautiful and sunny though with a cool SW wind and temperatures up to about 16C.
I was the leader and I was joined at Chichester Cross by Sam, Jeff and Keith.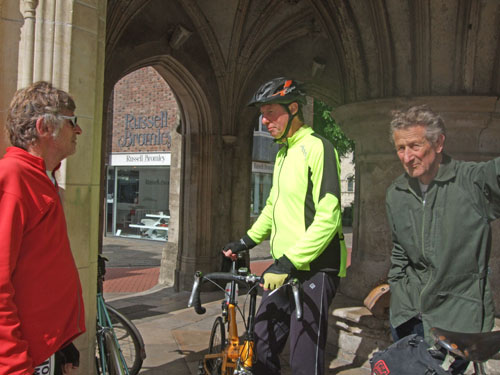 We headed out up the Centurion Way and then lanes via West Stoke to Funtington. Then it was on the valley road towards West Marden. Before the village we turned off on a back road towards Forestside with a steep climb. Near the top we were overtaken by a stream of riders from Alton CC.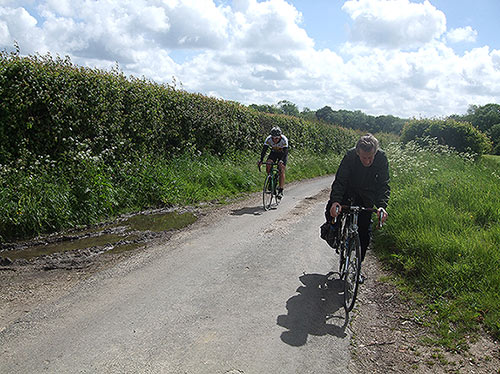 Then it was on with a sharp descent to Finchdean and lanes round to Chalton and then onwards to stop for elevenses at Queen Elizabeth Country Park.
After elevenses it was a lane to Clanfield and up and past the Bat and Ball before turning off on some very quiet lanes with ups and downs via Chidden. At a brief regrouping stop Sam took advantage of the break to be unhealthy. He was very pleased with his new chainset which had its first outing today.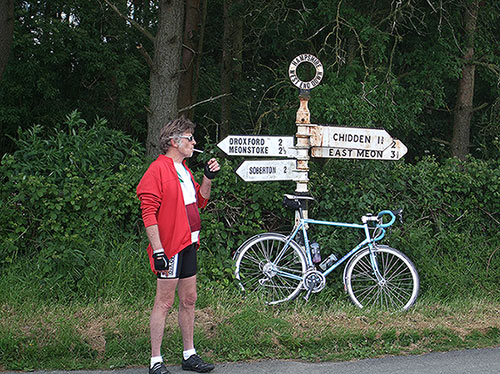 Then it was a sharp downhill to Exton with some walkers and their dog not noticing Sam hurtling down the hill towards them and hurriedly pulling back from crossing the road after a loud shout from Sam.
We stopped for lunch at The Shoe Inn which has a garden with the river Meon running past.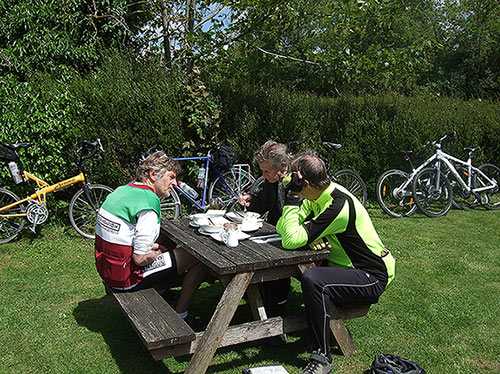 For the return route we took beautiful lanes above the valley via Meonstoke and Soberton.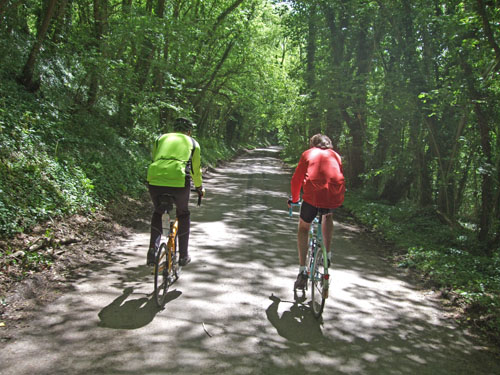 Then it was lanes across to Hambledon and a steep climb on a quiet lane. Then we worked our way East on Lanes via Cathrington and Horndean and on to stop for tea at Rowlands Castle.
Then back to Chichester via Westbourne. When descending into Westbourne from Rowlands Castle the lane through the village, formerly a mass of potholes has finally been fully resurfaced.
Mileage from and back to Chichester was 55.. My mileage for the day from Pagham was 67.
Edwin
Posted by RideLeader at 20:40 BST