Andover Weekend. Saturday 11 and Sunday 12th July.
Our plan for the weekend was to ride over to Andover, stay overnight at a B&B and then return on the Sunday. Linda had organised everything and she led us there on the Saturday and I led back on the Sunday.
We met at 9.00 at Chichester Cross, Linda, myself (Edwin) Anne, Colin and John. Adrian joined us at elevenses. Weather was cloudy with a very light drizzle which continued all day. However the heavy rain held off to evening.
Linda maintained a good brisk pace for the day taking us via Westbourne and Rowlands Castle to Chalton. We had our first animal encounter here, something which was to prove a feature of the weekend. A little puppy ran alongside the bikes. Colin stopped, worried it might follow us too far and it repaid his concern by peeing on his boots, bad dog!
We continued via Clanfield and up to HMS Mercury and the ridge road where we had climbed into the low lying clouds. Then it was down on a narrow lane to West Meon Fisheries for elevenses. Then it was on via West Meon and a lot of tough ups and downs to lunch at the Three Horseshoes Bighton. This is a really pleasant traditional country Pub with a good reasonably priced menu. There were comfortable armchairs to relax in after the meal, usually the preserve of the 2 Pub cats.
Conversation turned from Cats to mice. I told people how yesterday I was in the living room when a mouse sprinted across the room, hid behind a cupboard and peeked out at me before disappearing. A humane mousetrap is now on order.
The animal theme continued after lunch as we went to collect our bikes from the barn. A Guinea Fowl ran desperately up and down seemingly trying to get back into its enclosure without much success.
We rode on north of Arlesford and then turned off onto a vicious steep climb on a backroad I had not tried before and would not plan to repeat. Then it was more gentle rolling landscape via East Stratton and Micheldever Station to stop for tea at a Pub in Whitchurch. As we were getting ready to leave one of the Pub regulars asked us where we had cycled from. When we told him from various parts of the south coast he really couldn't believe we could have cycled that far and when we insisted we had he looked more and more bewildered. Clear proof that as Kevin Mayne told us it is a bad idea to put mileages on Rides Lists.
We soon cycled the remaining miles to the Picket Piece B&B at the small village of Picked Piece on the eastern edge of Andover. When we went to put the bikes in the garden shed we were greeted with a leisurely twitch of the ear and slow hop by the resident bunnies.
54 miles from Chichester, 60 from Pagham.
Sunday 12 July. Andover to Chichester
After a substantial Full English Breakfast to keep us going we got a good early start just before 9.00. Weather started with clear blue skies with some showers around in the morning but we generally missed these.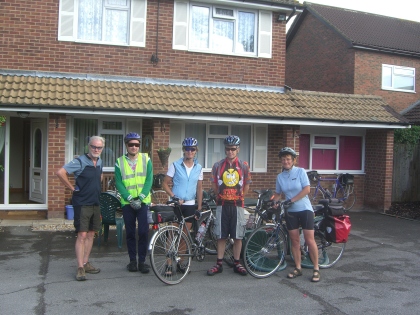 I led the way back on a direct route following the outward route until a little north of Arlesford where I turned onto different lanes and then down into New Arlesford and the Watercress Line station café for elevenses.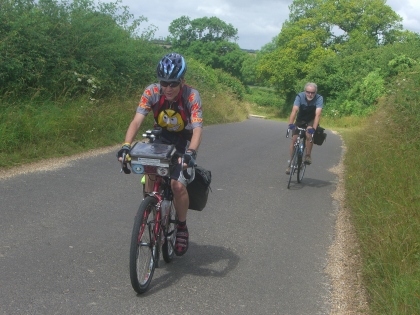 We sat under cover while a shower passed over and saw one steam train leave and another arrive while we were there. There was a big group from the Southampton based Sotonia Cycling Club also there for elevenses.
I took the group south on the Cheriton road and then on the outskirts of New Arlesford took some small lanes I had not tried before to get to the Tichborne lane. This brought us to a deep ford with a pedestrian bridge to the side. Nobody volunteered to ride through, probably wisely as the bottom was very stony.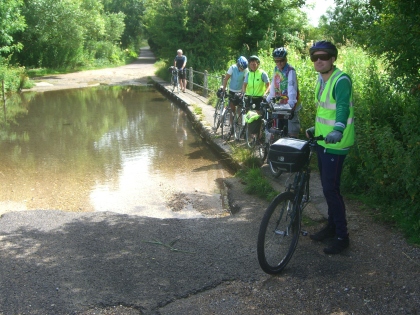 We continued via Tichborne and Cheriton and then lanes down to West Meon and lunch at the Thomas Lord, West Meon. This was really much too pricy with starters at £7 and mains at £14 and no light lunches available. We only stayed put because they were also doing pizzas in the garden and shared these. Colin found a better option at the Café at West Meon, a Community Café behind the Village Shop which opened last year and does light lunches.
We continued on the valley road to East Meon where Adrian split off to head back to Portsmouth while the rest of us continued on narrow lanes to Buriton and the steep climb and then long descent to Rowlands Castle for tea. Linda and Colin headed straight home. Anne, John and I stayed on for a tea observed by a dog sticking its head out of a parked car.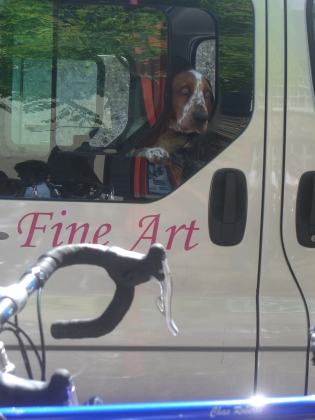 We returned via Funtington and West Stoke where we split to make our ways home. As I took the cyclepath past the college in Chichester and just coming out of the tunnel under the road a very large rat ran across the path in front of me. Bad weekend for rodent encounters! Is it unlucky like black cats?
57 miles back to Chichester and 64 to Pagham.
Posted by RideLeader at 22:35 BST
Updated: Monday, 13 July 2009 14:31 BST