Lanzarote. Sat 7 March to Wednesday 11 March. Scroll down for local Club Rides
On Saturday 7 March with winds still strong Richard, Maurice and Steve decided on a short walk along the coast to the village of Playa Quemada. The rest of us, myself, Peter and Harvey took a short ride and met them for elevenses at Puerto Calero Marina. We stopped off on the way back for an Italian Ice Cream on the front. 8 miles for the day.
On Saturday evening Gill and Anne arrived and as Supermarkets had closed I invited them to breakfast with myself and Peter. Their arrival heralded a period of warmer and more settled weather.
Sunday 8 March was light winds sunny and warm at 21C. Breakfast was on our patio. After Gill and Anne sorted their bikes we set off on a short ride along the coast to Costa Teguise. Just after we left the apartments there was a clatter from behind and it turned out Anne's front chainwheel had been bent by the baggage handlers making it unrideable on the big or middle chainrings. Potential disaster, especially as it was Anne's brand new Roberts. The bike was rideable on the little ring and we rode a mile to a bike shop which luckily was open on a Sunday and the mechanic was able to bend it back into shape. We regrouped for elevenses at Playa Honda.
We then continued along the Cyclepath to Arrecife which was easy to get through on a Sunday with little traffic. Then on to Costa Teguise and a warm picnic beach stop on the Prom.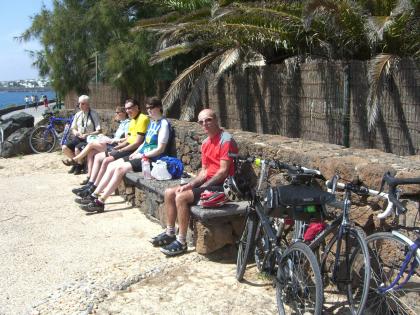 From Costa Teguise it was first a 550ft climb to the coast main road. Gill and Anne got their first chance to beat me up a hill.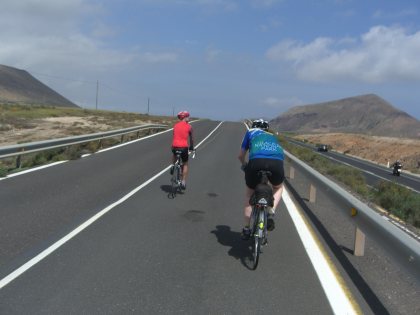 Then along the old road alongside the new one and we then turned off on another backroad for another 500ft climb to the inland town of Teguise. We stopped there for tea at a bio café with health foods. Then a descent followed by a 400ft climb to San Bartolome and a sweeping descent down the back lanes we usually come up. 40 miles for the day.
On Monday 9th March it was warm at 21C with scattered clouds. We took a ride to Playa Blanca on the far SW tip of the Island. We first rode on a backroad to Tias.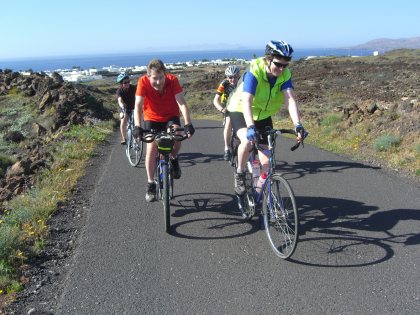 Then it was via Conil to the top of the plateau and then the smooth lightly trafficked main road along the centre of the Island to a winery bar for elevenses including cakes. Then down to Yaiza and a long gentle downhill on the old road alongside the main road from Arrecife to Playa Blanca. We stopped for a picnic lunch on the Prom in the warm sunshine followed by some ice creams.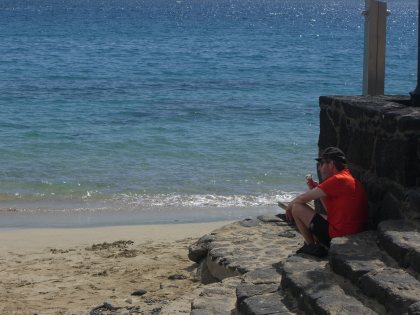 The return ride was a different route via Fermes. The climb was gentle at first before getting harder and then vertically up a cliff. Peter, Harvey and I were joined by everybody else in walking at some stage. Gill and Richard rode most but not all of it.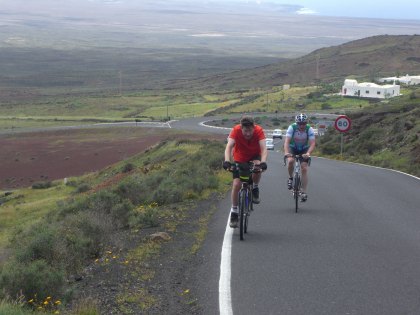 We stopped for tea at a café in Fermes with views down our route back to Playas Blanca. Chocolate cake was very welcome. Then it was a long downhill along a high valley. 40 miles for the day.
On Tuesday 10th March it was sunny all day with temperatures of 22C. Steve and Maurice were flying back today so it was myself, Richard, Harvey, Peter, Gill and Anne on the ride. We took a ride to the other side of the Island at La Santa and back. We took a different route out with a lane up to La Asomada. This involved a very steep section with Peter Harvey and I walking.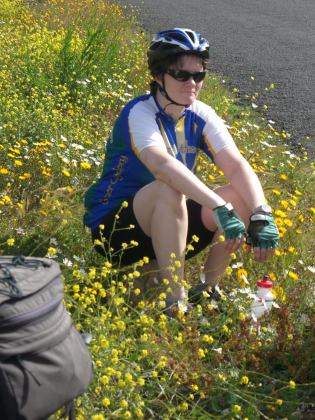 We stopped at a small supermarket in the village for elevenses supplies eaten in the shade outside. We continued along a road across a lava field spread out to the horizon and stopped for Photos of a volcano with its top blown off. We stopped for a picnic lunch in a park in the town of Tinajo just before the descent to the north coast.

After a descent to the north coast battered by an increasing side wind we stopped for drinks at a café in La Santa on the coast. We also took a look at the contents of the Pro Bike shop opposite. We continued along the coast past the giant La Santa Sports complex and then a short climb to the town of Soo. Then it was a long gradually descent to Famara, a beach at the base of 2000ft cliffs. The only problem was that the strength of the headwind meant a hard pedal downhill and fine grains of sand blown from adjoining fields across the road like slithering snakes seemingly alive as eddies blew them in different directions.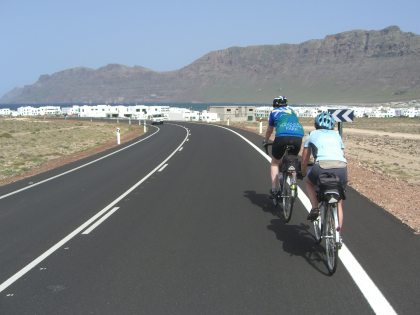 At Caleta just before Famara we took shelter and regrouped in a handy sturdy bus shelter. Then it was on to Famara where the wind blew gusts of sand from the beach across the road. Beyond the beach the road started to climb back up to the plateau but a change of direction provided a handy tailwind. We took a direct route back via San Bartolome and Tias and then a steep descent on the smooth main road back to town. With a steep straight road and a tail wind I got up to my second fastest speed ever, 49.5 mph. 40 miles for the day again.
On Wednesday 11 March it was clear and sunny all day with lighter winds and a ramp up of temperatures to 25C. Everybody took a rest day except Richard and Gill who took a short 26 mile ride up to the plateau, along some lanes and down to the coast to Playa Honda to return on the Cyclepath.
Edwin
Posted by RideLeader at 21:28 BST
Updated: Saturday, 14 March 2009 22:28 BST