Sunday 5th April. Ride to the Hog's Lodge, Clanfield.
Upon a sunny but coolish morning Linda led Avryl, Colin, Edwin, Gill and Robin on a brisk run from Chichester Cross through Funtington and Aldsworth to Stansted for elevenses.

The Pavilion has reopened and very fine and tasteful it is too - woodwork in white, metalwork in black and some doors in a pale eau-de-nil.
Chris, Jan and Carol from Portsmouth/Havant were there to greet us and rode on with us to the Hog's Lodge for lunch via Forestside, Chalton and up the hill past Butser Ancient Farm.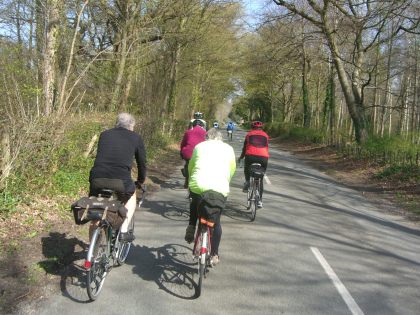 On this section of the ride Edwin asked me to point out that there were 6 women cycling and only 2 men, Robin having left us after elevenses. Come on all you chaps, come and even the numbers up. It's not normal I understand in cycling circles for women riders to outnumber the men.

Chris, Jan and Carol left us at the pub to carry on their own rides to their homes in Hampshire. We did gain more company though. Liz and Alan had cycled their own route from Chichester and returned after lunch to Chichester, making their own way. Adrian had cycled up from Portsmouth and made his way back there after lunch.

We remaining 5 carried on westwards to the Butser Hill picnic park up the appropriately named Hogs Lodge Lane and thence down to and around Oxenbourne House, through Buriton, Quebec (W Sx) and South Harting to pick up the Treyford, Bepton road at Elsted.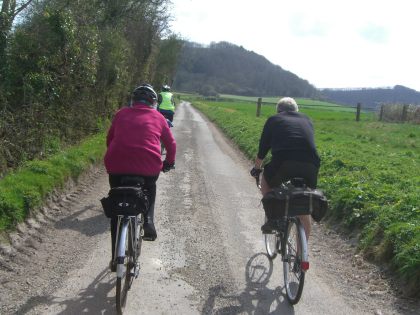 This took us to the Moonlight Cafe at Cocking for a lovely tea. The Cafe was very busy with a Hunt the Easter Egg village event, but we managed to squeeze ourselves around a spare table in the sunshine out of the cool easterly breeze. Despite this Gill had caught a chill and after getting up Cocking Hill raced off into the distance and we never saw her again!

The round trip from the Cross was 47miles, though most people had done well over 50 to and from their starting points.

Linda - Writeup
Pictures - Edwin

Posted by RideLeader at 21:00 BST
Updated: Sunday, 5 April 2009 21:13 BST