Sunday 17th July. Morning Ride to Compton
The weather today was warm and dry with temperatures up to 24C though mainly cloudy.
There were 2 rides, a long one to Four Marks supported by Colin, Anne, Paul and Russell. The short morning Ride was to Compton with Arthur as the leader. He was joined at Chichester Cross by myself, Sam, Terry, Mike, Martin, Harvey and Brian. Lynn joined us at Woodmancote so 9 in all on the short ride.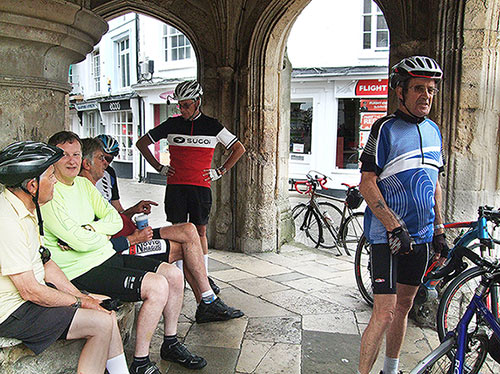 Arthur led the group out via West Street and then on via Clay Lane and the South Coast Cycleroute to Woodmancote for elevenses stop No 1 where Lynn joined us.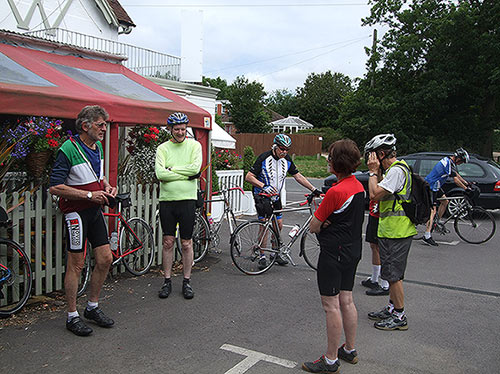 We continued vi Racton where there was a traffic jam of cars getting into The Lordington Lavender field. We sailed past the jam and on up the B-Road passing through woods.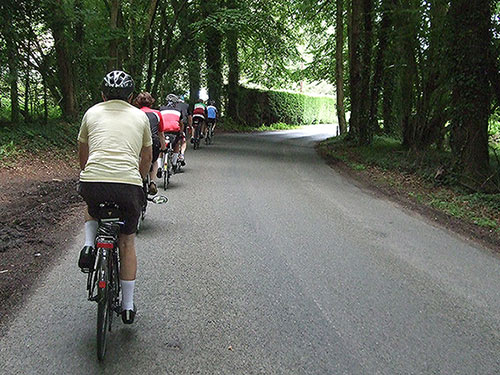 Then it was on via West Marden to our main elevenses stop at Compton Village Tea Rooms. Our stay was marred when the waitress stumbled and a jug of boiling hot water spilt on Arthur's foot, ouch or words to that effect. Sam sprang into action obtaining cold water, a towel and a cold compress from the Tea Rooms.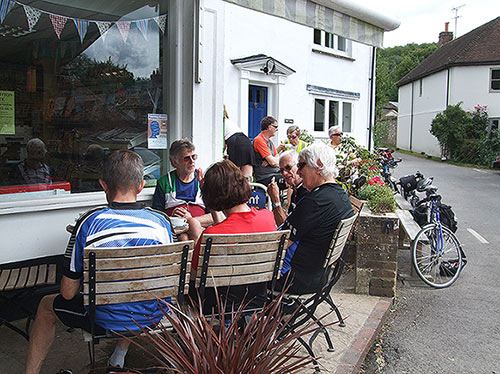 Another incident happened just before we arrived at the Tea Rooms as Harvey's clip in pedal fell apart. He left for home early as he could not pedal up hill. Sam had no such problems as he was again out on his electric bike. Lukily he was fairly restrained most of the time apart from speeding up some of the hills.
We headed back initially on the same route before turning off on the hill over to Funtington and then Watery Lane to West Ashling and a brief stop at the Pond for a photo.
Then it was back to Chichester and a 3rd elevenses? Stop at what was now lunchtime at Fishbourne Roman Palace. The Roman Centurion there took exception to Sam's new fangled electric bike pointing his spear at it though we warned him of possible shocks.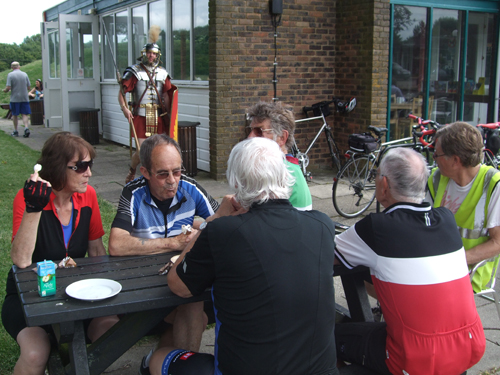 Mileage from and back to Chichester was about 25. My mileage from Pagham was 35.
Edwin
Posted by RideLeader at 18:24 BST