Saturday Ride...Bognor Library to The Forge Tearooms Slindon.
The weather forecast wasn't good for this afternoon - heavy rain showers. it had been dry all morning but it was raining when I left home and still raining when I got to the ride start point. I was wondering whether anyone would turn up, but astonishingly a total of 8 appeared - Mike, Steve, Carol, Harvey, Sue, "old" faces Samantha and Maureen, rejoining the group after some years absence, and new face bonnie who joined us for the first time and whom we hope to welcome again on a future ride.
After waiting several minutes for it to stop raining - which it didn't - the nine of us decided to head out anyway towards the blue sky in the distance. after cycling round the back of Felpham, through the new estate and down Hoe Lane, it finally stopped raining just before we reached the Barnham cycletrack.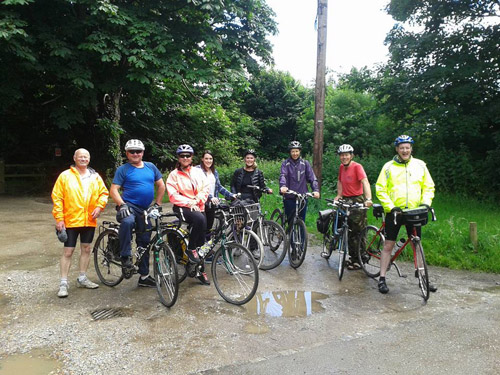 The sun then appeared as we made our way to Barnham and then on the new Cycleroute to Walberton. from there it was along West Walberton lane to Fontwell, and under the subway to Slindon woods.
A short debate as to whether we should go via Slindon bottom and tackle the serious folly hill or take a much flatter route through the woods was resolved when I assured everyone the woods route was clear of mud. sure enough the woods were easily negotiated, there is a rough stone surfacing which is a little uneven but perfectly dry and it makes for a wonderful little cut through. we emerged unscathed in Slindon village with a short roll down to The Forge.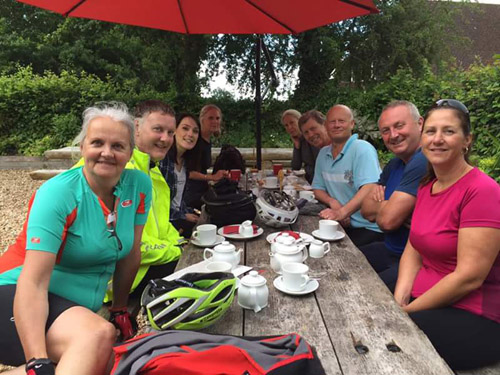 Just as we were getting ready to leave, it started raining again, harder than earlier, and so we took a shorter route back down Slindon bottom road, carefully crossing the very busy A27 at the central refuge, into Walberton, then Yapton, Middleton, and back to Bognor. raining the whole time until the outskirts of Middleton were reached.
The round trip mileage from and back to the start point, was almost exactly 19 miles.
Graham
Posted by RideLeader at 00:01 BST