Sunday 23 August. 100 Mile Ride.
The longer ride today was a 100 mile ride into North Hampshire stopping at Popham Airfield Cafe for lunch. I (Edwin) led the ride and I was joined at the Cross at 7.00am by Ann and Colin.
Weather was excellent, warm early and late and hot in the middle of the day up to 26C. There were unbroken clear blue skies until mid morning and in the late afternoon and scattered clouds in the middle of the day. Weather was very similar to last years 100 except for a southerly wind which made the temperature more comfortable
I led the group out on the South Coast Cycle route lanes over to Rowlands Castle. Then it was Clanfield and up to the Bat and Ball and up to HMS Mercury on a lane I rarely use. After a short ride along the ridge it was down on a steep narrow lane to Meon Springs Fisheries situated on a back road between East and West Meon. We settled on the veranda above the fish ponds and enjoyed our bacon butties.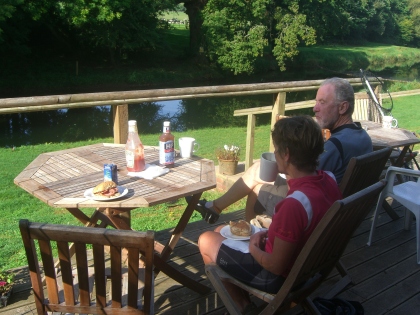 We learned at The Fisheries that unfortunately they are now no longer serving food Sundays. We were lucky today as a special event had been on.
Then over to West Meon and we had a plea for help from a car driver. He was unable to start an old Austin Sports Car. Colin and Anne and members of the driver's family gave a good push but unfortunately only managed a few coughs and splutters (from the car not from them) I maintained by duties as chief photographer.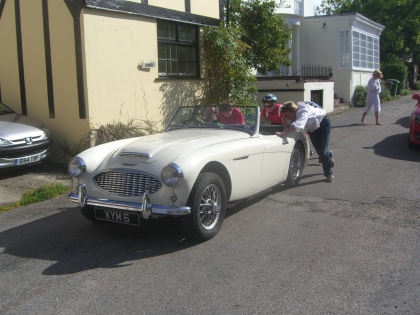 Then it was pleasant country lanes over to Cheriton and Tichborne. I led the group across a ford on a little lane on a back way into New Arlesford. Colin and Anne were brave enough to ride on the narrow planks above the Ford. I had regard to my previous history of falls and cautiously walked across.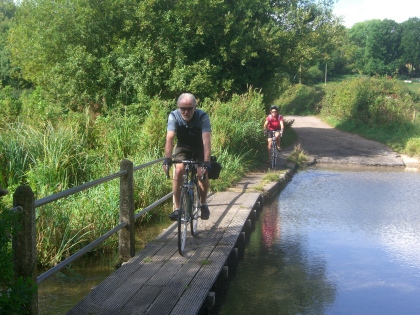 We stopped at The Watercress Line Station for a brief elevenses stop. Unusually large amounts of steam wafted past us as a train pulled out of the station.
We continued north from Arlesford with great views across rolling downland and on via East Stratton and Micheldever Station to stop for lunch at Popham Airfield Cafe. Unfortunately the airfield was packed for the Annual Motorcycle Mega Meet & Vintage Aircraft Fly-in. There was a big queue for only cold food at the café. Colin and Anne had brought sandwiches anyway. I will need to remember to check for Events before future visits.
After lunch we continued on north for a short way but I cut short the usual route by a few miles due to road closures at Overton. Then down on lanes to Dummer and past Dummer Farm, family home to the Duchess of York. Then it was pleasant lanes via Axford, Bradley and Lower Weald to stop for a break by the Cricket Pitch at Meadstead. Appropriate for an Ashes winning day.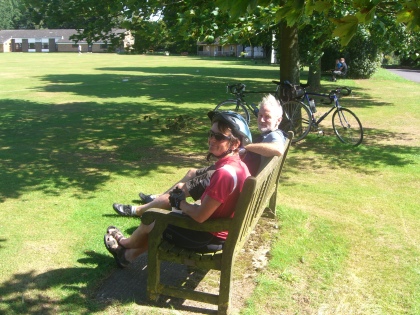 Then it was lanes near Selborne via Newton Valence and Hawkley to Liss by 4.00 and a welcome break at The Spread Eagle, West Liss which is open all day Sundays.
Then on and over Hill Brow and a fast long descent to Rogate. Then lanes to Nyewood and on via Elsted Marsh, Didling and Cocking where we found a shop open selling ice creams and then back over Cocking Hill.
Mileage from and back to Chichester was 97. With rides from home to the start we all did over 100. Anne 101, I did 110 and Colin about the same.
Edwin
Posted by RideLeader at 22:20 BST
Updated: Monday, 24 August 2009 11:24 BST