Sunday 2nd August. Picnic Ride to Wisborough Green
Colin was the leader today and he was joined by at Walberton Pond by myself (Edwin) Avryl, Gill, Anne, Jeff, Ernie and Phil and Verna from Worthing. We met Alan and Liz later in the morning making their way direct.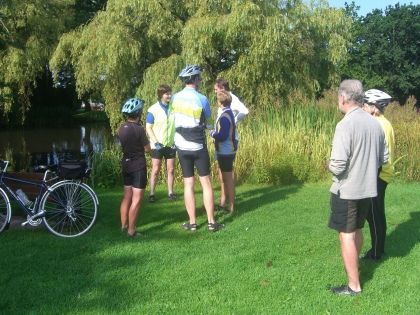 The weather was sunny in the morning with more cloud early afternoon but clearing later in the afternoon. Temperature was about 21C.
We rode up to the Spur and then the lanes via Madehurst to Whiteways. Then a fast descent of Houghton Hill and on to Amberley to stop for an early elevenses. We were their first customers of the day.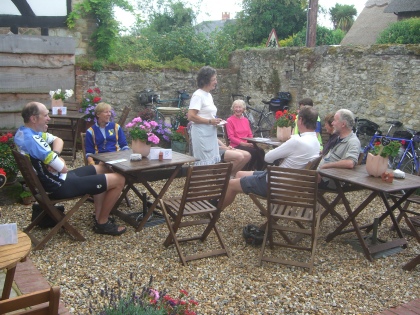 Then it was on past Wiggonholt and the lanes to West Chiltington. Then it was north via Broadford Bridge and Coneyhurst and lanes to the north of Billingshurst and on to Wisborough Green. There was a good turnout from other Sections and in the end there were 27 there altogether.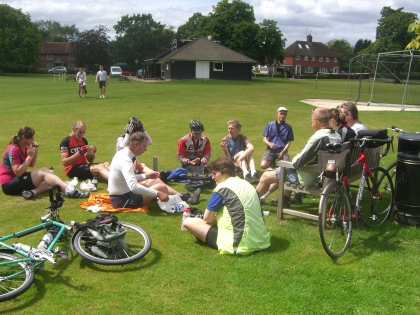 On the way back we rode via Kirdford and Flexham Park and a maze of lanes bringing us out eventually at Fittleworth. We took more lanes to Sutton where we had hoped to stop for tea at the bi-annual Flower festival with teas at the Rectory. Unfortunately the Open day at Bignor Park which used to alternate with the Sutton Festival had switched to Annual and the Sutton event had been moved to 9th August. We took the usually closed lane into Bignor Park with hopes of getting tea there but the tea rooms were packed and a long queue waiting. Alan and Liz and Phil and Verna decided to stay there while the rest of us moved on to Houghton Bridge tea rooms.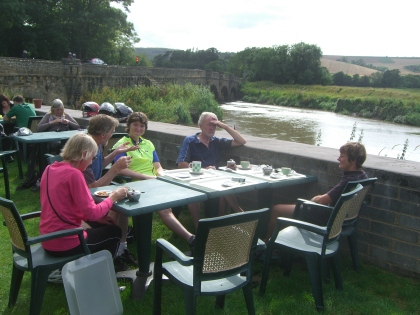 After tea we split up with John Wickens heading back to Washington, Colin, Gill and Anne going back via the Khyber Pass route to Arundel and Avryl, Ernie and I heading back over Houghton.
My mileage for the day from Pagham was 68.
Edwin
Posted by RideLeader at 21:06 BST