Sunday 26th July. Ride to Boaters Bar, Prinsted.
There were 2 rides today, a long and short ride. I joined the Leader Jeff for the long ride at 08.30 at Chichester Cross. We waited a little but nobody else arrived.
Weather was mixed today, mainly cloudy with a few sunny spells in the morning and more cloud and a few spots of rain in the afternoon. Jeff led the way with a brisk pace up Centurion Way to Lavant and then lanes via West Stoke to Funtington. Then it was up the B road towards West Marden but turning off for a stiff climb to Forestside. Then it was down to Finchdean and on the road to Chalton. As a fit young racing cyclists came past Jeff demonstrated the benefits of drafting maintaining 18.5 mph on his tail for a little way.
We turned right at Chalton to head towards Ibsworth and then a gradual climb across to Compton and a stop for elevenses. We continued on the main route down the valley and then lanes towards Woodmancote. Here we split with Jeff heading home. I headed south to join the short ride for lunch at the Boaters Bar, Prinsted.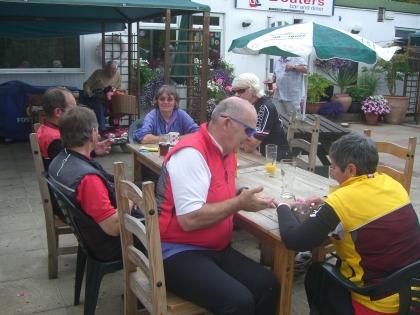 The short ride met at 10.00 at Chichester Cross. The ride was led by Arthur and gained Alan and Liz, Brian Wey and 2 friends of Arthur from the Moulton Club. They had taken the loop round Bosham Harbour and stopped for elevenses at the Arcade Café, Bosham.
Alan Liz and I left the lunch stop soon after lunch with rain threatening and headed straight back to Chichester. My mileage for the day from Pagham was 54.
Edwin
Posted by RideLeader at 20:10 BST
Updated: Sunday, 26 July 2009 20:16 BST