Ride to Tangmere Aviation Museum Café. Saturday 5th March 2016
The weather dawned cloudy and chilly for a ride to Tangmere Aviation Museum Café.
Seven cyclists gathered at Chichester Library, including Judith, a newcomer, who had come down especially from Haslemere. She had seen the ride advertised on the Sky Breeze Rides website and had decided it would be fun to explore a different area from her own!
The group set off from the library heading north towards North Walls, before turning east towards St Richard's Hospital. Fortunately, no one wanted to visit the A & E Department (!), so everyone carried on in a north-easterly direction through the Swanfield Housing Estate, coming out at the Homebase roundabout.
Having crossed over the roundabout, the group continued along Stane Street, which was originally a Roman road and the route of the A27. At Maudlin, the cyclists veered off to the right along a cycle path signposted to Tangmere. The route continued for a short way alongside the A27 before everyone diverted into the village via a housing estate. The group arrived at the café at 1.50 pm.
Unfortunately, the enticing warmth of the inside of the café was unavailable as all the tables were already taken! However, fortunately, the group managed to still stay reasonably warm in a covered roofed area outside.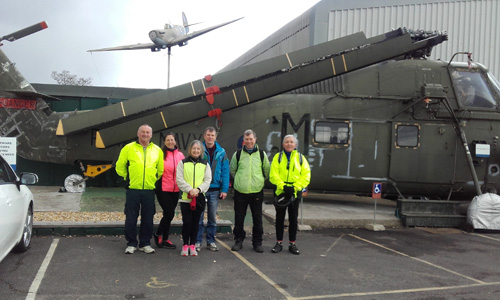 Following tea, two of the cyclists left the group to make their own way home via Tangmere Airfield back to Bognor, and another left to go towards Fontwell, via the A27 cycle path. For those remaining, the route back to Chichester was fairly short. Turning left out of Tangmere Aviation Museum, the cyclists went towards Shopwyke and then turned right at the traffic lights at the Oving crossroads. Having left one cyclist heading towards Sainsbury's (to do his shopping!), the three remaining cyclists went back into Chichester via Spitalfield Lane, arriving back in town about 3.30 pm.
Philippa
Posted by RideLeader at 00:01 GMT