Sunday 27 June. Ride to Upham
Today the weather was sunny and hot with temperatures up to 28C though we caught an occasional cooling breeze from the SW.
The meeting point for the ride was Chichester Cross. I was leading and I was joined there by Sam, Rex, Gill and Colin. We later collected John Wickens at Havant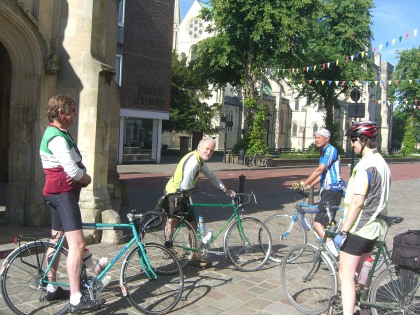 I led us out via Clay Lane and the South Coast cycle route lanes to Westbourne and then Havant where we met John. From Havant it was up Portsdown Hill with good clear views down across Portsmouth to the Isle of Wight. Then it was down a lane next to a monument to Nelson and a winding route on lanes before joining the B Road into Wickham. We stopped here for elevenses. We had intended to go to the main cafe in the square but this was packed with a queue out the door so Gill led us to The Baytree Cafe up an alley to the back of the square.
We then continued on more lanes towards our destination of Upham. We skirted Bishops Waltham and onto another lane to start the climb to Upham This involved some narrow lanes and a fair bit of climbing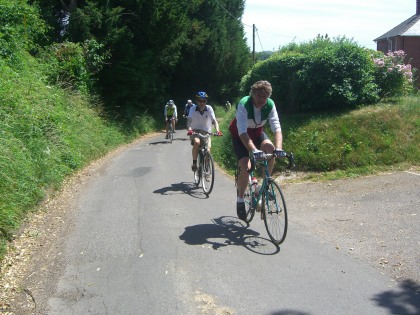 In the afternoon we headed on a different lane back to the edge to Bishops Waltham and then a lane via Dundridge and then over Shepherds Down to the top looking down to Droxford and the Meon valley. We stopped to regroup and take on water in the gathering heat.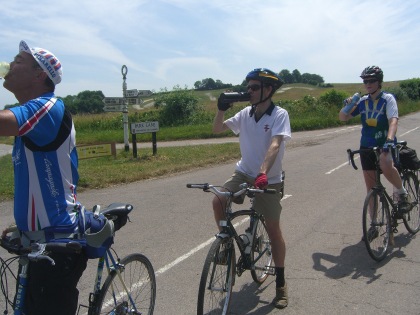 The fields were especially green with hay and early corn fields as we dropped down to Droxford and then lanes along the valley via Soberton and then a winding lane across the Downs to Hambledon. There was some discussion as to whether we would make it to Rowlands Castle before they closed or whether to stop at Lotts Café Hambledon. Gill made the sensible suggestion of stopping at both with an ice cream at the shop in Rowlands if necessary.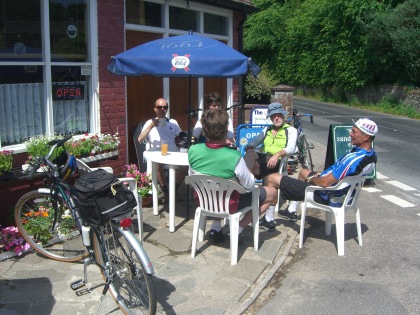 After tea at Lotts Cafe I took everybody by surprise by turning into a road with gates looking like a driveway which is actually a public road on a lane up a stiff climb.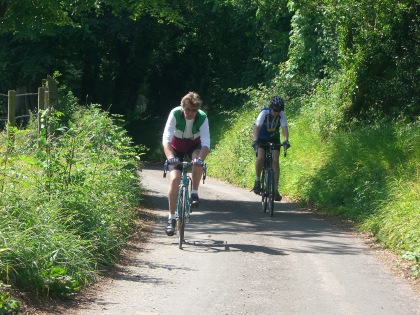 Then it was a fairly gravel strewn tarmac lane which probably only ever sees tractors. After another stiff climb (17% by my new bike computer) it was on to Horndean. I was now well into the World Cup Match and as we got to the junction there was the novel site of no cars at all on the usually busy road there. John left us at Horndean to ride down to Havant where his car was parked.
We continued on lanes to Rowlands Castle and although the café was in the process of closing Sam persuaded them to serve us. Colin and Rex needed to get back so just Sam, Gill and I stayed and tucked in to our second tea.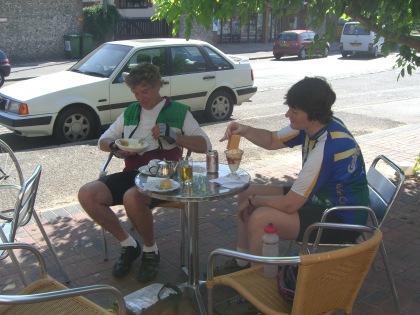 We returned on the usual route via Westbourne.
The ride distance from and back to Chichester Cross was about 61 miles. My mileage was 71 miles.
Edwin
Posted by RideLeader at 22:07 BST