Evening Ride- Arun Leisure Centre to the Winterton Arms, Crockerhill
A really lovely evening for cycling - warm and sunny, with no wind to speak of.
I was joined at the start point by Edwin, Julian, Jo, Steve and Carol.
We headed west to North Bersted skirting north Bognor, then took Shripney Lane and northwards to Lidsey and Woodgate. Then it was through Aldingbourne village via Hook Lane. At Aldingbourne I took the group down a little known bridleway which runs from Aldinge Farm to East Hampnett. Its been a while since I took this track and was a little worried as for the first 200 yards or so it was very overgrown. Fortunately it widened out (just as well, as it is about 3/4 mile long) and we were able to negotiate it without difficulty.
Half way down we came across some friendly horses, obviously not used to seeing anybody on what is truly off the beaten track.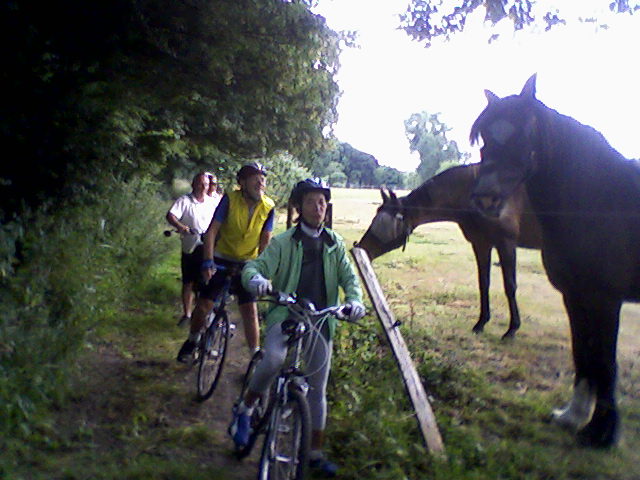 Emerging at Crockerhill, we negotiated a very busy A27 and into the pub. There we were entertained by what appeared to be the local guitar club, having a sing-a-long.
On the route home, Edwin peeled off at Aldingbourne to return via Oving and Colworth, whilst the rest of us headed for Barnham. By the time we got there it was still light eough to take the cycetrack across the fields to Flansham and Felpham, completing a circular ride of 16.3 miles.
Graham
Posted by RideLeader at 22:24 BST