Sunday 25th July. Ride to Portchester.
Today there were 2 rides. I was leading the longer ride to Portchester and Harvey led the shorter ride to Staunton. The weather started cloudy but cleared to sunny intervals and temperatures up to about 24C.
En route to the start I came across some wildlife. First on a path crossing the Pagham Rife there was a swan with 6 cygnets. The Swan hissed at me as I passed no doubt in a protective mood. Later on the Canal Path from Hunston to Chichester I encountered a Heron on the path. It lives on the canal but I have never seen it on the path before. To avoid disturbing it I stopped far enough away and took pictures with a zoom.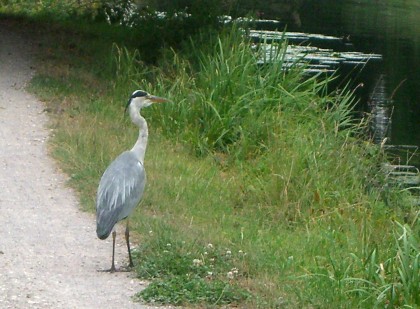 At the Cross I was joined by Sam, Colin Gill and Colleen. Colleen is a friend of Gill's from Boston in America.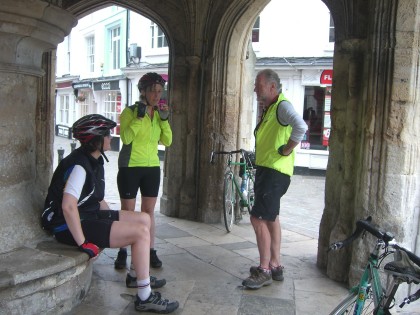 We took the usual route on the South Coast Cycle route lanes via Woodmancote and Westbourne to Rowlands Castle for early elevenses. Just as we were leaving Harvey and his group who started 30 minutes later arrived.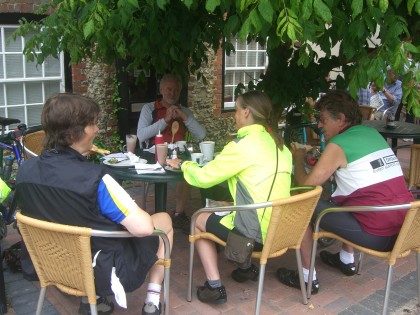 We continued on lanes to Horndean with our peace disturbed by a few hundred motorcyclists coming the other way on a veteran car rally. After a lane to Cathrington it was the start of a twisting winding route on lanes some of which even I had not tried before. We tackled a short sharp climb near Hinton Daubnay.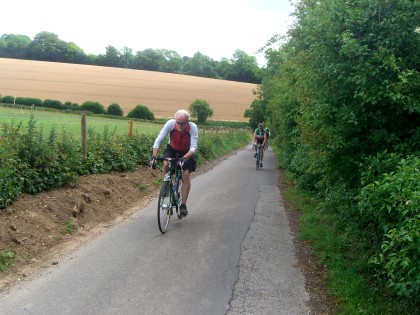 Then it was on via Forest Gate, Worlds End and near North Boarhunt. Finally we climbed up the steep ridge to Portsdown Hill coming out by Nelsons Monument. Then it was straight down the other side and into Portchester and the Castle. Sam, Gill and Colleen had lunch at the nearby Cormorant Inn while Colin and I had sandwiches in the Castle grounds. The castle is free entry apart from the Norman Keep. The walls which front onto Portsmouth harbour date from Roman times and I explored the path along the waterfront.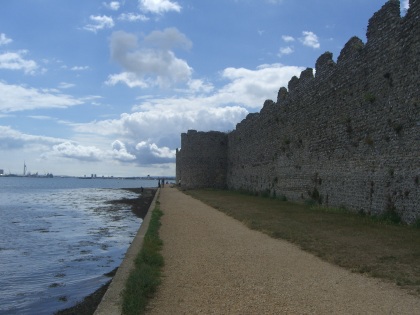 Then it was a steep climb back up Portsdown Hill. Then it was along the top with great clear views over Portsmouth and the Isle of Wight and a long descent to Havant.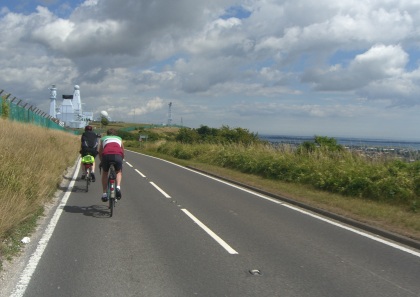 We stopped for tea at Emsworth at Heidies with The Greenhouse Cafe closed already at 2.45.
We took a similar route back via Westbourne. Mileage from and back to Chichester was 47. My mileage was 60.
Edwin
Posted by RideLeader at 20:48 BST
Updated: Sunday, 25 July 2010 20:59 BST