Sunday 1st August. DA Picnic, Wisborough Green
For today's ride we met at Walberton Pond. I was the leader and I was joined by Colin, Avryl, Anne and Gill. Alan and Liz and Freda and Jim went by car to Wiggonholt and then rode from there to join us for the Picnic at Wisborough Green so 9 out for the day.
Weather was mainly cloudy though with some sunny spells and temperatures up to about 22C. We rode via Slindon Woods and Eartham and over the downs on the main road. When we reached Duncton Hill for a fast descent we were pleased to discover that it has been resurfaced with good smooth tarmac. We continued on lanes to Tiffins at Petworth for elevenses.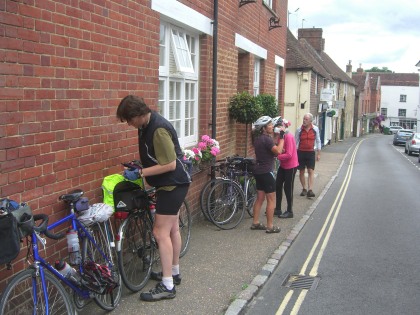 After refreshments we rode via Balls Cross and Kirdford to arrive at Wisborough Green pretty much as a dead heat with Horsham Section at 12.05. Their riders were Barbara, Bob and Anton. 15 minutes later Arun Adur arrived with Richard, Tony Yorke and John Wickens. We were also joined by John Maxim and Brian and Sue Howe. It was also really good to see Dave Galle who was brought by Louise.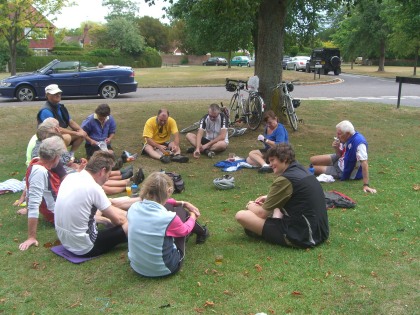 In the afternoon we rode to Wiggonholt for tea joining up with Arun Adur riders. From Wisborough Green we took the path across fields over the Canal and the Arun.
Then it was a quiet lane and across the main road to Broomers Hill lane, aptly named, to come out by the White Horse Pulborough. Then it was on to Wiggonholt to have tea outside under their new shade/rain cover.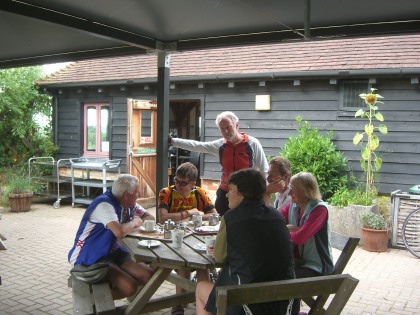 After tea we split up with Arun Adur and making our way to Houghton where we split again to go different ways home.
Mileage from and back to Walberton Pond was 40. My mileage was 57.
Edwin
Posted by RideLeader at 21:26 BST