Sunday 8th August. New Forest Awayday Ride
This ride was led by Arthur and met at Brockenhurst Station at 11.00. I obtained a lift from Richard and the drive to Brockenhurst with a lot of the route on the fast M27 was only an hour. We joined Arthur and Lynn at the Station Car Park and also numerous friend of Arthur from the Moulton Club and some CTC riders from Southampton . There were 14 of us in total.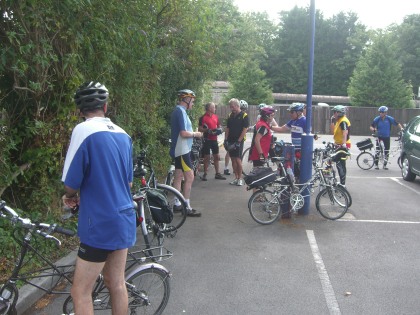 The weather was warm and sunny with light winds and temperatures up to about 22C. We set off on some backroads out of Brockenhurst and were soon on one of the few short hills of the day.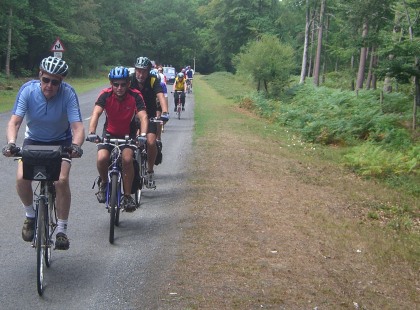 Next we turned off to ride through a campsite and after one slight navigational error got on the right route to take concrete tracks across an old airfield at Beaulieu Heath.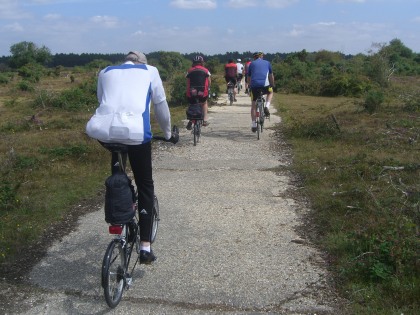 This avoided most of the traffic to get to Beaulieu for a stop at a cafe for elevenses, well actually twelveses.
Next it was a very quiet back lane passing to the south of East Boldre. A stop was required as I noticed my crank was feeling very loose and looking down at it the crank was wobbling enough to be on the verge of falling off. This was my Roberts Bike and a few months ago I had replaced the bottom bracket and chainset. A suitably sized large allen key soon had it tightened up.
We continued to the riverside at Lymington and split up to have lunch at various locations and then met up at 2.45 for the return ride.
We rode back a little further west via Sway encountering quite a few ponies at the roadside some smaller than others.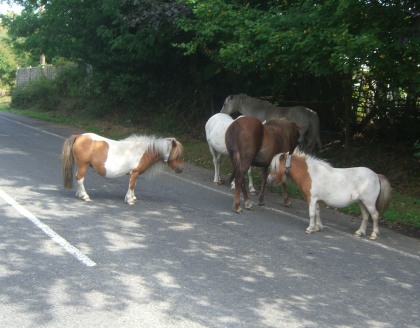 We rode back into Brockenhurst for a tea stop at a cafe. Then it was back to the station car park to make our ways home.
The ride was 25 miles. I had cycled up to Richards so my mileage for the day was 39.
Edwin
Posted by RideLeader at 20:19 BST
Updated: Sunday, 8 August 2010 20:25 BST