Sunday 29th August. Longer ride to Portsmouth
Today there were 2 rides to Portsmouth a longer hillier one led by me and a shorter flatter ride led by Avryl.
I was joined at the Cross by Gill, Anne and Colin. The weather was mainly cloudy in the morning but with some good long sunny spells in the afternoon. The day was dry apart from a short shower in the afternoon as we got back to Chichester. We fought a stiff NW headwind on the way over but a nice tailwind for the return.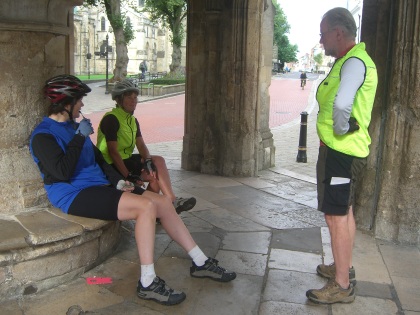 I headed out via the Centurion Way and then West Stoke, Funtington and Racton with a stiff little climb on a side road to warm up. Then it was Rowlands Castle, Finchdean, Chalton and up the hill to cross the A3 and on to a welcome elevenses break at Queen Elizabeth Country Park cafe. We had a few mechanicals to sort out. En route I had to tighten up my crank and after elevenses Gill needed to use an ever useful zip tie to secure her mudguard.
We continued via Clanfield and then down to Hambledon. A right turn up a little lane out of Hambledon was a short and very sharp climb. Then it was pleasant quiet little lanes mainly downhill to Hipley. Then it was round to Southwick and on for the big climb of Portsdown Hill. I choose a very steep little lane which even Colin had not tried before.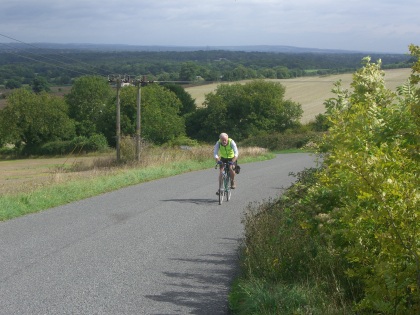 Then it was a ride along the ridge of Portsdown Hill with great views looking down over all of Portsmouth. After a fast descent to Cosham we took the cycle route via the ferryport and round to Southsea common and the Kite festival. Avryl had tried to ring me and I tried to ring her but our mobile phones did not get on well and refused to communicate. Eventually David Glue got through to me and we met up for lunch at the war memorial. We were both fairly late, Avryl's' group had arrived at 1.30 and I arrived at 1.45. Avryl had been joined by Harvey, David and Mandy.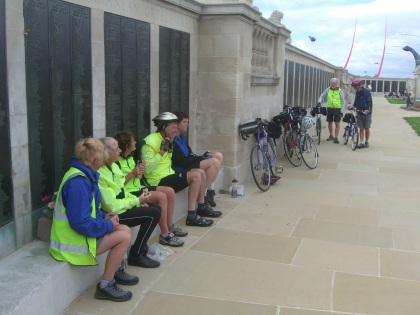 While we had our picnic lunch we had a good view of the Kite Festival which is free event.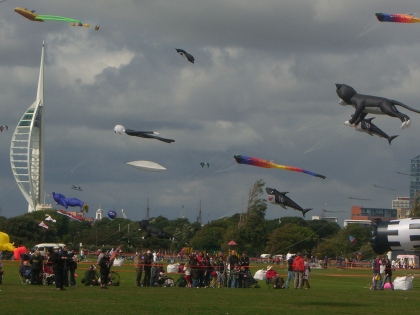 In the afternoon Avryl led her group back via Hayling. Colin went with her to visit family. I led Gill and Anne up the Eastern Road Cycle path. To get there I took various back streets which I had scouted out using Google maps and Street View pictures so I was able to recognise a footpath I needed to take. 21st century cycle route leading!
The cycle path follows the eastern edge of the Portsmouth peninsular with good views over the harbour and then it was across to Havant. In the Havant pedestrian precinct I spotted a Costa Coffee cafe open and as it was nearly 4.00 we stopped there for Tea. Then it was back via Emsworth, Westbourne and Woodmancote. Just as we got into Chichester we spotted Avryl's group ahead and caught up with them.
Mileage from and back to the Cross was 65. My mileage for the day was 76.
Edwin
Posted by RideLeader at 20:40 BST