Saturday Ride: Bognor Regis Library to Manor Nurseries, Runcton
A cold wintry afternoon today; temperature never got above 4 degrees and a biting north wind made a 2nd pair of gloves a "must have" accessory.
However it wasn't raining and there were 7 hardy starters at the library - is this a record for a February afternoon?
I set off with Alan, Liz, Julian, Steve, Lucy, & Ryan and we headed via the seafront towards Aldwick. Alan and Liz had business to stop off at along the way, so they left us to go via the Chichester cycle track and catch us up later. Meanwhile the rest of us carried on via Stoney Stile Lane to Nyetimber where we picked up Summer Lane to take the bridge over the Rife and the field tracks on to Runcton.
Having crossed the bridge, the ground was solid and rideable until we rounded the field edge and came across something that definitely wasn't there the last time I took this route. A large reservoir (presumably intended to service the needs of the farm business.. unless the famer has diversified into trout farming) had been constructed in the field next to the track. As a result of the recently completed construction, the track was pitted with tyre tracks, mud and puddles, and to the edge, where the land had been made good, was soft earth, no good for cycling or walking!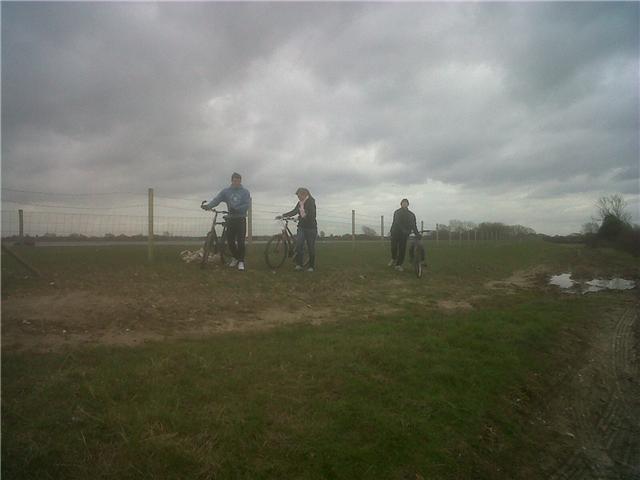 Negotiating the track by the new reservoir.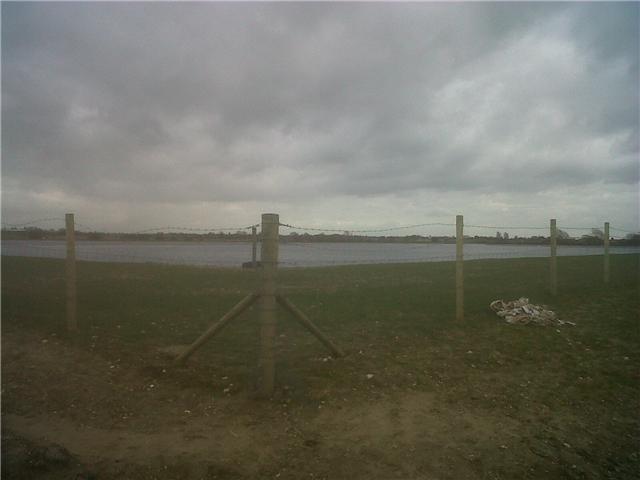 look at the size of it!
We continued on, perhaps reflecting on Alan & Liz's decision to take an alternative route. However carefully watching our step meant we weren't as wet or muddy as perhaps we could have been.
A short sprint later and we were in Bowley Lane, where an overspilling stream allowed us to clean our wheels off.
Ten minutes later and we were at the tea stop, arriving almost at the same time as Alan & Liz.
Our return route was down the very busy Lower Bognor Road (roadworks and delays at North Bersted mean this road is carrying greatly increased traffic), but we diverted off via Parigo Farm (a closed, but not locked, gate being another new addition) and arrived back at Bognor without further incident.
My mileage for the afternoon was 18.
Graham
Posted by RideLeader at 19:33 GMT
Updated: Monday, 15 February 2010 23:23 GMT