Lanzarote. Sunday 14th March. Volcanoes Ride
Today temperatures were about 22C with clear blue skies and a NW wind strong enough to keep the heat down a little.
With little traffic on a Sunday I decided to take a different route out up a B-Road which climbed gently first to Macher and then on a steep minor road to Asomada. Height at the top was 1200ft and my bike computer read a 5 mile climb, good warm up!
After a short stretch on the central main road I turned off onto the quiet Tinanjo road which crosses an extensive lava field. I stopped by a view of a Volcano and walked a little way into the lava field to get some different viewpoints for pictures.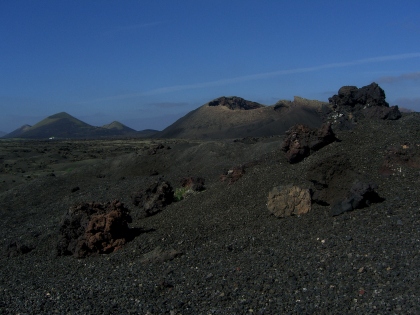 I continued on the nice smooth tarmac with a bit of a push against the wind. At Manca Blanca I turned off on another road heading south with a tail wind. This took me through the Timanfraya National Park. After passing the central volcanoes area I stopped at the start of the long descent across the lava field to Yaiza for pictures which was well timed as a group of cyclists climbed towards me.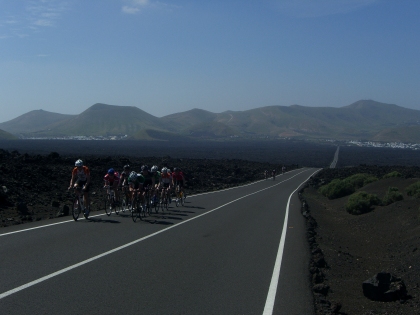 I stopped for 11.30s at a square in Yaiza for half an energy bar. Then it was onwards and upwards back to the plateau with a 400ft climb up to the wine growing area of Geria. With the lack of rain the vines are planted in depressions which are made with low walls round to trap dew.
I then took the central main road along the plateau to San Bartoleme and a great 6 mile descent to the prom at Playa Honda where I had a picnic lunch. The last 5 miles along the prom was taken fairly slowly with a plane spotting sunbathing break, an Italian Ice Cream break and a café break.
42 miles for the day.
Edwin
Posted by RideLeader at 18:47 BST