Sunday 26th October. Ride to Dragons Green
Today it was cloudy mild and dry with temperatures up to about 15C. Colin was the leader and he was joined at Walberton Pond by myself, Rex and newcomer Andrew Morley from Birdham. Sam came by car to say hello but was not yet able to cycle after his operation. Gill joined us later for a while after lunch so 5 out on the day by bike.
The description of the route today is a little more detailed than usual to help those who had no idea where they were to follow it on a map. Colin led us out on the usual route from Walberton taking Shellbridge Road among the first signs of Autumn Colours.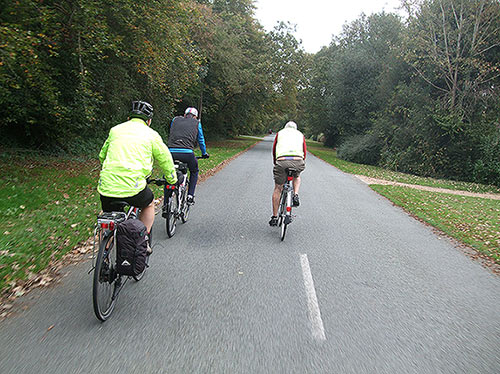 Then it was the lane via Madehurst and down the hill to Houghton before turning off on the lane to Bury. Then it was more quiet lanes via West Burton and Coates to Fittleworth. Then it was up the lane to Brinkwells Hill. This is a very pretty lane but one of my least favourite hills due to its length and about 4 steep ramps upwards after each of which you think you are near the top as it levels off. The clear sign for the real top is bright red post box on the left.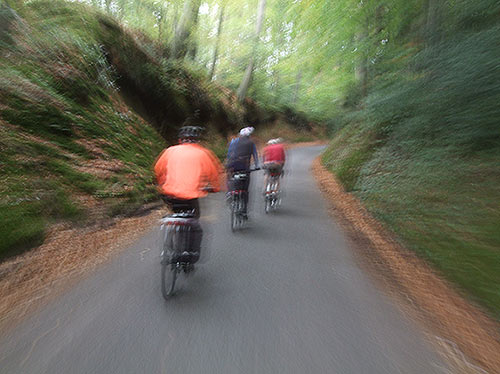 Then it was down the even steeper descent on the north side and on to Wisborough Green for an elevenses stop at the cafe where we were welcomed by the serious Italian who runs it.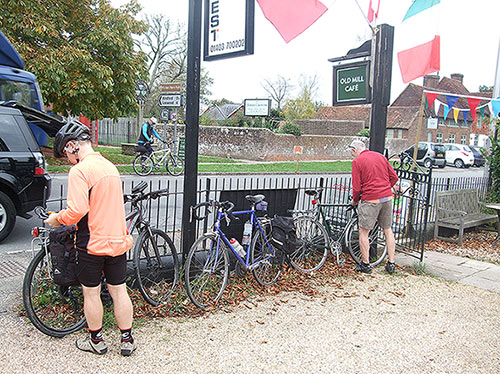 We then headed east on the main road before turning off on the lane towards the Haven but turning off this near Oakhurst to cross the A29 and take the lane to Barnes Green. Just before Barnes Green I spotted an ancient car ahead of us so sprinted ahead to get a picture.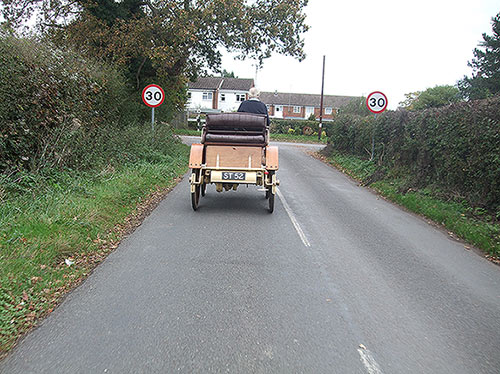 From Barnes Green it was a lane via Marlpost wood and down to Dragons Green. We all had sandwiches at the Scout Hut using some handy picnic tables and then round the corner to the George and Dragon Inn for drinks where we met up with Gill.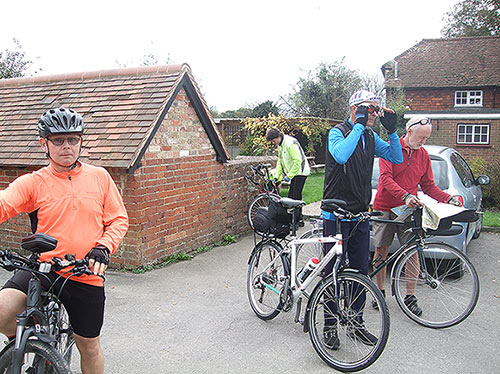 From Barnes Green we headed south soon taking a short Colin loop via Shipley and Whitehall. Then it was a lane via Broomers Corner heading south to just above Ashington. We then turned north on the B2133 and then left on a lane to Thakeham (I was lost at this stage!) After Thakeham it was south a little on the B2139 before turning right on a lane west towards West Chiltington and then south towards Storrington before turning right on a tarmac lane marked as a path on the map which bypasses Storrington. At the end of the lane it was right on another lane via Redford House (short Colin Loop) and a short stretch of main road to then join the lane via Wiggonholt Common.
Then it was the usual route back via Rackham. As we were coming down fast towards Amberley it was emergency stop as a horsebox backed out from a field in front of us being directed by a girl clearly not noticing bikes.
From Houghton it was the long drag up Houghton Hill and back via Madehurst.
Return mileage from Walberton was 54. My mileage from Pagham was 70.
Thanks go to Colin for another well navigated route with some beautiful quiet lanes.
My latest picture to be processed was taken at the Carcassonne Citadel in southern France during a cycle tour last month. Taken in the dawn light.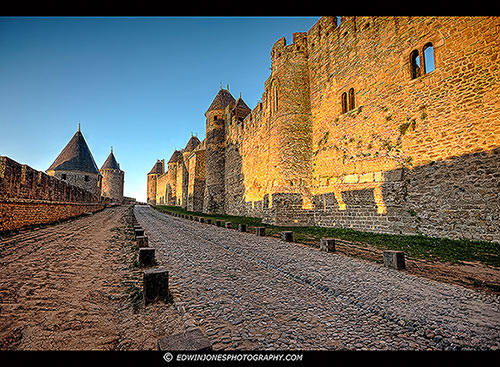 For more details and a larger picture see
https://www.flickr.com/photos/edwinjones/15424490987/
Edwin
Posted by RideLeader at 21:33 BST
Updated: Sunday, 26 October 2014 21:35 BST