Sunday 2nd November. Ride to Aldingbourne
The weather today was windy and wet though with a few dry interludes.. After earlier downpours I managed to get to Chichester in the dry. I was due to lead the 9.00am ride to Rake. However nobody turned up for this so I decided to wait for the easy ride starting at 10.00 scheduled to go to Littlehampton. I waited in Costa with a hot chocolate soon joined by Keith who arrived early to start his crossword.
Arthur was the leader and he was joined at Chichester Cross by myself, Keith, Avryl, Lynn, Russell, Martin and David. Alan joined us at elevenses so a surprising 9 out on the day. In the picture Arthur gives a very suspicious look at the Paparazzi.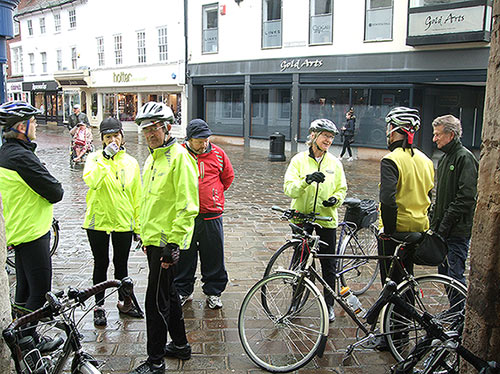 As we left the rain resumed first light and then as a torrential downpour and then steady and heavy. We took a direct route to elevenses at Barnham via Shopwhyke, Oving and Eastergate. Elevenses was taken at the Willow Tea Rooms near Barnham Mill and we arrived at the same time as Alan. We decided to go for a more sheltered route and changed the lunch stop to Aldingbourne. A break in the weather arrived just in time to leave.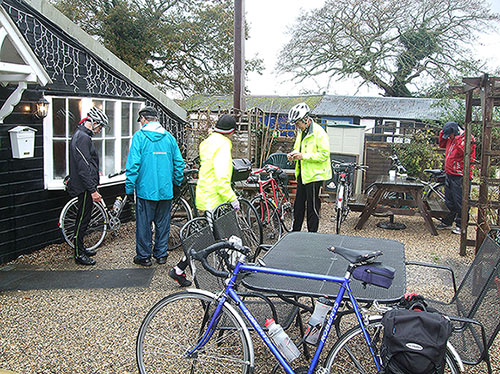 Alan, David and Russell left after elevenses to head back. The rest of us headed on via Walberton and then up Tye Lane were we got dripped on from the trees.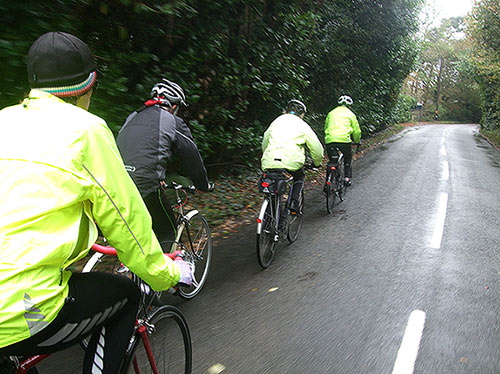 Then it was on to the underpass under the A27 and on to Aldingbourne Garden Centre Cafe for lunch which for some reason was empty of other customers. The picture below was taken as we left.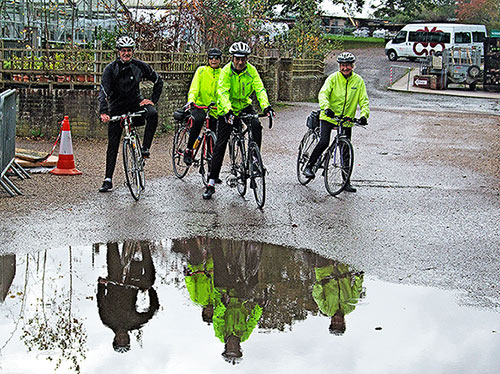 The group continued back to Chichester with a tea stop at the new cafe in Goodwood Control Tower. I headed back from Aldingbourne getting home just before the next batch of rain.
Distance from and back to Chichester was about 30 miles and my mileage from Pagham was 35.
My latest HDR pictures are first this one from Open House taken inside the Channel 4 Building looking up through a skylight.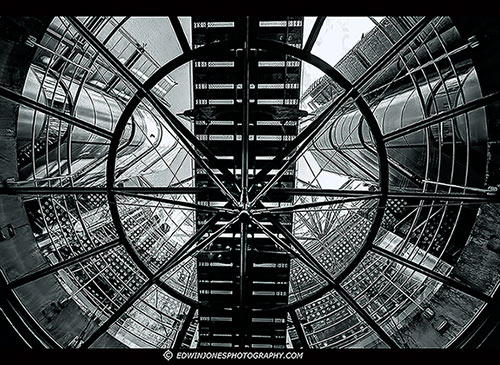 For a larger picture and more detail see https://www.flickr.com/photos/edwinjones/15453247539/in/photostream/
The second one was taken in a tunnel at Waterloo Underground with a fair bit of processing. I call it Lines to a Space Odyssey.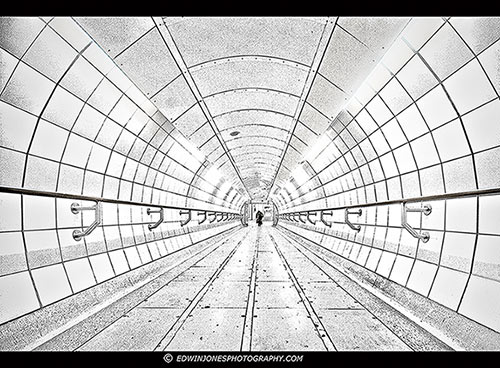 For more details see http://edwinjonesphotography.com/blog/2014/10/high-key-effect-using-topaz-simplyfy
Edwin
Posted by RideLeader at 16:45 GMT