Sunday 14th December. Ride to Aldingbourne
Today was the Tinsel Ride to Aldingbourne. After a cold start temperatures warmed up quite a bit though with some scattered showers. I had intended to go on the long ride to Barnes Green but the discovery of a puncture just before I left put paid to that. The advantage of a Marathon Plus Tyre is that it very rarely punctures, at least 4 years for the one in question but the disadvantage is that they are absolute pigs to get on or off.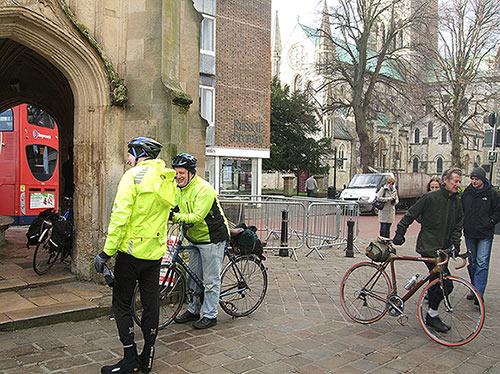 Harvey was leading the short ride standing in for Arthur. He was joined at Chichester Cross by myself, Chris and Keith. As Harvey was the only one to decorate his bike he was the runaway winner of the best decorated bike competition.
We headed out via the Centurion Way to Lavant and then across to Goodwood Airfield for elevenses at the Control Tower Cafe. Harvey timed it perfectly as a shower arrived just after we got inside.
We continued via Halnaker and on to Aldingbourne for lunch which was fairly empty after another group of cyclists left.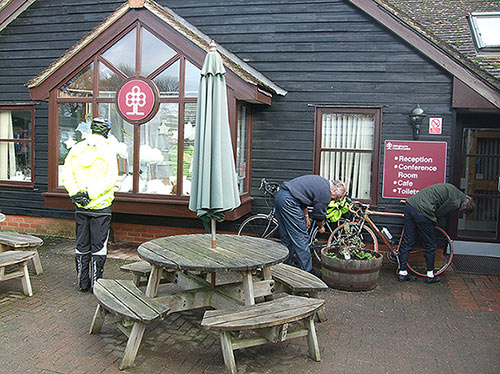 In the afternoon Keith headed back to Chichester while the rest of us headed back via the Fontwell underpass and Walberton. I headed home via Yapton, Middleton and the seafront Cycleroute. The only other rain of the day arrived just as I got to my front door, lucky!.
Mileage from and back to Chichester would have been about 20 miles. My mileage from Pagham was 30.
My latest pictures to be processed are first an old one from Salisbury showing the reflection in the font.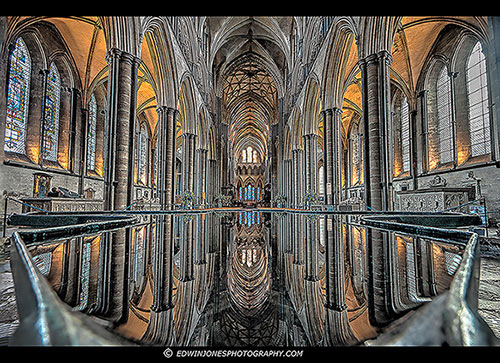 For a larger picture and more details see https://www.flickr.com/photos/edwinjones/15362525363/in/photostream/
Next is a picture taken while in London last Monday with a little bit? of editing with a new program called Glow. The original picture was of a Hoodie on a travelator.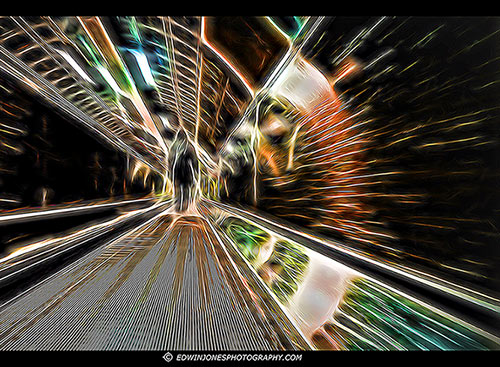 I have put more pictures edited with the program on my Photo Blog http://edwinjonesphotography.com/blog/2014/12/topaz-glow-review-and-tutorial
Edwin
Posted by RideLeader at 16:09 GMT