Sunday 28 September. Ride to Rushfields Garden Centre, Poynings
Colin's ride today 28th Sept, was a typical inventive mix of sportif and rough stuff fellowship ride from Walberton to Poynings and back. How we got there I have little idea ,apart from the fact that Sam and I (Jeff) opted to go the usual Madehurst/Houghton route to Amberley whilst Colin lead Ann Rex and Chris 'the bell' over the Kyber Pass. So Sam and Jeff enjoyed an early coffee break at Amberley Tearooms whilst the pack rolled onto Wiggonholt .
After early dense fog the sun broke out giving us a perfect autumn day -24 ˚ with a pleasant light breeze. From Wiggonholt it was all a bit of a blur keeping up with Colin's wheel at 17-20mph only slowing down for hills ( a little) and the off-road and walking bits.
Lunch at a Garden Centre on the A281 just north of Poynings was an excellent choice with lovely food, coffee and table service. Despite a heavy hint that it would be appropriate to see the village of Poynings, given that was the advertised destination, Colin lead us out onto a northerly circuit of Hurstpierpoint and Blackstone before heading south to Upper Beeding then up Steyning Bowl concrete road .
A swoop down to Worthing found a great cafe down a pedestrian street just west of the pier- Parklife (and there was plenty of that in Worthing today which was rather too much humanity for Rex) Chris had to get back to ring bells at Walberton which gave Colin a chance continue setting the pace . This proved too provocative for a group of kids in Yapton who set chase. We let them win. Needless to say Colin did not sell us short of the 70 miles. The picture is of Colin showing how I felt after the ride.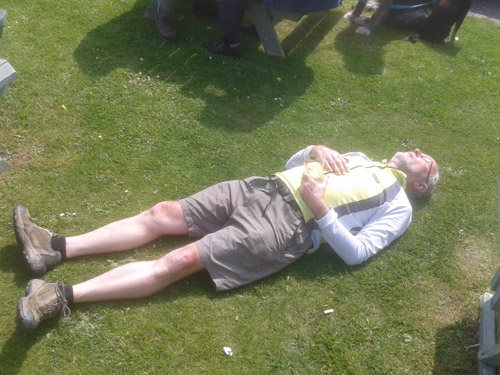 Jeff
Posted by RideLeader at 08:14 BST
Updated: Thursday, 9 October 2014 08:19 BST