Saturday 11 January. Chichester Library to Chichester Yacht Basin
Philippa led this ride with completely contrasting weather to all that has happened since Christmas. In a break from the strong biting winds and continuous torrential rain, today was glorious sunshine and no wind. With temperatures in the sunshine topping 14 degrees, it could have been March, April, or even May. Hard to believe it was still January.
Debbie and I had set out for the start point via the Flansham - Barnham Cycletrack which although sticky in parts, had dried out very considerably and was rideable without difficulty. I have previously ridden it when the river has burst across it and fields on either side have been lakes. Not so today but interestingly, the dry bed of the Ford - Hunston Canal now held water.... proving that over 150 years after it was closed and abandoned, the clay poddling laid by navvies almost 200 years ago was still doing its job of sealing the canal bunds. I've never seen this before so snatched a quick photo.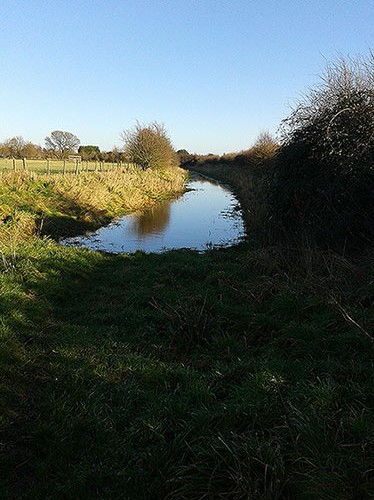 Arriving at the start we found the brilliant weather had brought out a good number of riders who evidently had been desperately waiting for a break in the poor conditions to get out cycling. No less than 14 set out - Philippa plus Alan, Liz, Steve, Carol, Debbie, Mike, Graham, Rachel, Roy, Avryl, David, plus new riders Sue and Rod.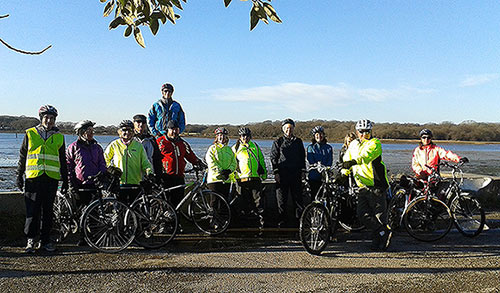 Our route took us through central Chichester and Apuldram to the Salterns Way which we followed all the way to the Yacht Basin.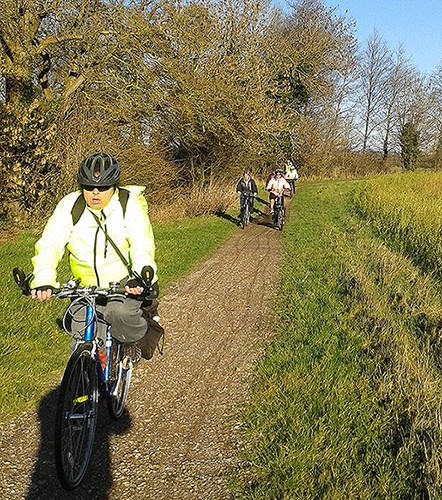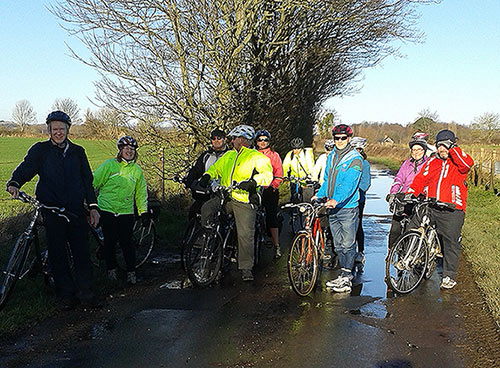 Along the way we noticed in an adjacent field a gaggle ( I'm told that's the correct term of venery) of what must have been over 100 geese. They appeared to be feeding.

Our turn came when we stopped for refreshments at the Spinnaker restaurant.
For the return trip, Philippa took a tour around the basin before heading back up Salterns Way and Chichester. No less than 9 of us left the group at this point and headed directly back to Bognor, via Hunston and the Lower Road farm Lanes to Aldwick.
My mileage for the afternoon was 22. The return trip to Chichester would have been about 14.
Graham
Posted by RideLeader at 20:44 GMT