Saturday Ride - Bognor Library to Manor Garden Centre, Runcton
After more than a month of seriously bad weather, perhaps it was too much to expect that today's ride would take place in reasonable conditions.
Whilst the temperature was unseasonably mild at about 8 degrees, there were weather warnings for both wind and rain today, so it was always likely that plans would be disrupted.
When I left home the sun was shining so although the wind was very strong (met office recording gusts of 63mph locally at 13.00 hrs) i decided to set out for the start point to see if anyone turned up.
I cycled via Hotham Park where the narrow gauge railway (which is operated by a company that also has interests in main line engineering and so has been properly ballasted and laid) was showing signs of the recent torrential downpours and just managing to keep its head above water.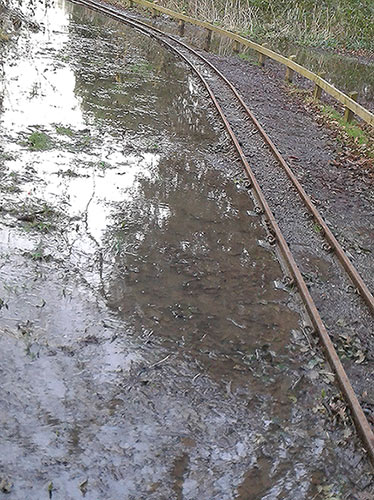 At Bognor library Steve & Carol turned up, making 3 of us out in total, which is 3 more than was anticipated.
As we were debating what to do, a heavy hail shower started, which made our minds up that we would curtail the ride to somewhere a bit closer. After the hail shower, it didn't actually rain until almost 5pm, so we could probably have done the full ride in the dry, although the sodden ground meant no possibility of any off roading, so it would have meant main roads there and back, plus hard going against the wind.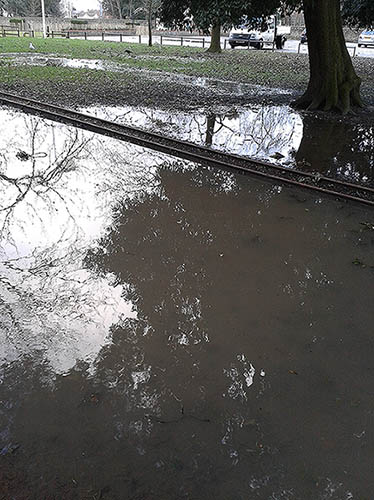 In the event we ended up at the "What a Waffle" cafe in Bognor High street, which at 0.4 miles from the start point must make this the shortest ride of the season so far.
After a pleasant hour or so debating life, we went our separate ways.
Graham
Posted by RideLeader at 20:16 GMT