Saturday 14th January. Ride to Aldingbourne
After a couple of cold days, today was sunny and at 10 degrees with a light SW wind, it promised very favorable cycling conditions. Others must have thought so too as no fewer than 18 riders were lined up at the start point.
I was joined by Debbie, Michelle, Carol, Steve1, Steve2, Sam, Alan, Liz, Julian, Dave, Lucy, Andy, Ali, Chris, Mike, Harvey, and Russ.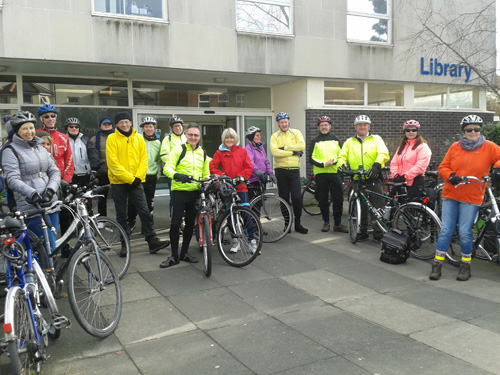 I had thought about taking the riders via the Flansham-Barnham cycletrack but several sources told me it was very muddy and my own check of it last week confirmed it was certainly sticky. So instead I led the group over Highfield Bridge, through South & North Bersted to Berry Lane and across the new estate, round the lake and on to the Chichester Cycletrack.
Continuing through Colworth and Woodhorn we skirted Oving and took the old route across the Tangmere runways to emerge at Aldingbourne village. Unfortunately Lucy then pulled up with a flat tyre, this was mended quickly with a foam injection.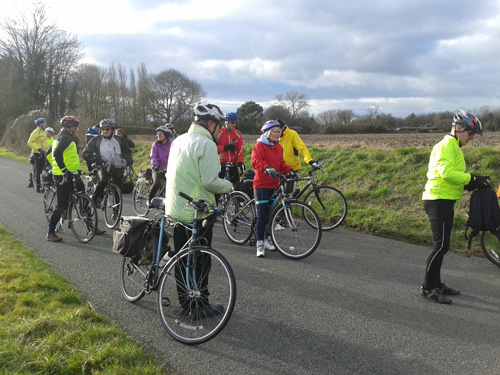 We carried on through Nyton with a difficult crossing of the A27 to approach the Country Centre from the lesser known "rear entrance" which skirts the farmyard. it was on arrival at our coffee stop that it became apparent that Lucy's tyre repair had failed and it was flat again. The culprit turned out to be a very large thorn, which had the appearance, and strength, of a rusty half inch nail. Very grateful thanks to Mike, one of our two super mechanics riding today, for taking considerable time out from the rest stop to strip the tube and tyre, clean the failed foam and effect permanent (we hope!) repair.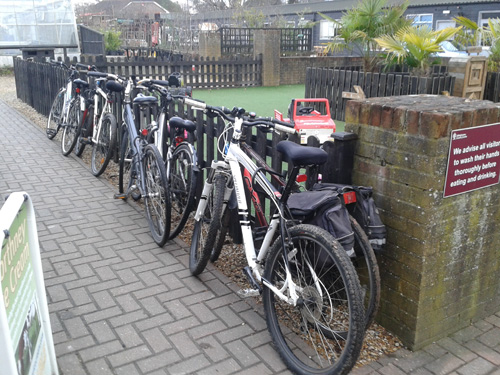 Repairs complete, Steve and Carol had to leave us early so went straight back. Harvey, Russ, Alan & Liz also made their own ways home leaving the rest of us to take the "official" route via Halnaker Barn Lane to drop down to Crockerhill, and another "at grade" crossing of that horribly busy scar across the landscape. From there it was back through Aldingbourne, then Hook Lane to Woodgate, a short stretch of the A29 to Shripney, and then back to Bognor via Shripney Lane and north Bersted.
Mileage from, and back to, Bognor library, was just over 18.
Graham
Posted by RideLeader at 20:46 GMT
Updated: Monday, 16 January 2017 20:49 GMT