Saturday Ride 11 February to Goodwood

Leaders Steve & Carol
Riders 12
Harvey,Colin,Kev,Steve,Maureen,Chris,Graham,Sam,Dave,Mike
Goodwood control tower cafe
Steve led the ride out on a cold 3 degrees day which started to snow.

Left library turning right then right through car park and down underpass to Highfield lane.
On cycle path past Tesco turning Left into Rowan's way. Through new housing estate to Chichester road turning right at Mercedes garage.

Past St Andrews church to Tangmere airfield. Through Tangmere then left onto A27 cycle path and a brief stop for a picture.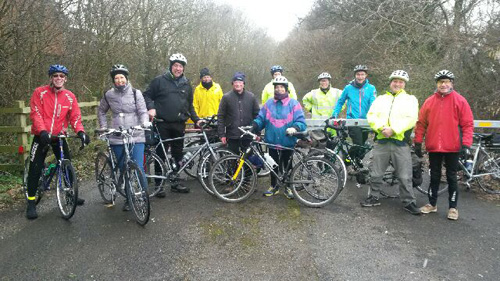 Then through Maudlin turning right into Clay Pit Lane, past West Hampnett Primary School and left to Goodwood Control Tower Café.

Enjoyed tea and large portion's of cake and warmed up nicely . At the Circuit There were saloon car trials of some sort racing around.
Carol led return journey, snow had stopped and not so cold.
Turning right then left thorough Westerton village then Right onto Lavant straight leading towards Boxgrove when Maureen got a puncture. Mike the mechanic saved the day, thank you and to Steve for new inner tube.
Went on and across Tangmere airfield and followed outward journey back to Bognor library.

Total mileage 25miles.
Steve and Carol
Posted by RideLeader at 20:56 GMT
Updated: Sunday, 12 February 2017 22:10 GMT