Saturday Ride 22 April... Bognor to Aldingbourne Country Centre
The ride today was originally scheduled to run to Denmans Gardens, but was changed to the nearby Aldingbourne Country centre after the gardens went into administration. The last opportunity to go there will be next Thursday 25th when everything will be auctioned off to pay creditors.
Todays sunny weather with temperatures of around 16 degrees encouraged 19 riders to the start point, a brilliant turnout.
It was good to meet up again with longstanding members Bob and Gill out on their first Saturday ride for some years, and riding tandem. As well as them we had a new member, Tom, plus Debbie, Michelle, Carol, Steve, Mike, Tracey, Ali, Andy, Alan, Liz, another Steve, another Alan, Sam, Maureen and Christine who had come specially over from Shoreham.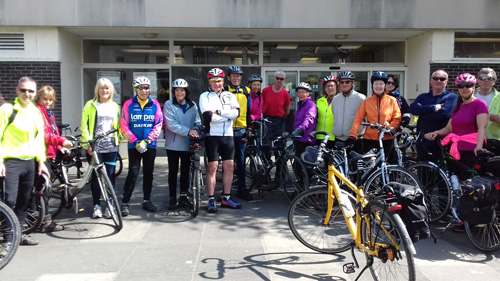 We set out round the usual back roads to Felpham but I then took a very recently reinstated route from Bognor Golf club through the Blakes Mead development, crossing the relief road to the Barnham cycletrack. This route was formerly two very rural tracks known as North Road and Stanover Lane. Its reinstatement cuts about a mile off as it saves riding out to Flansham Lane and Hoe Lane. Then up the path to Barnham.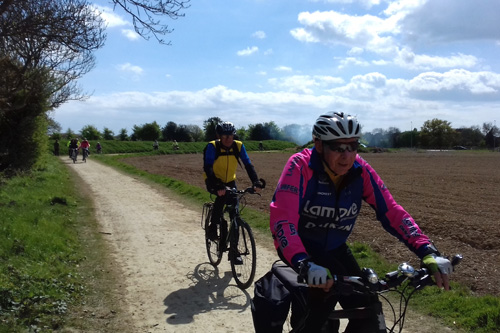 From Barnham we took the Walberton cycletrack and at the duck pond turned down Eastergate lane to Fontwell Avenue.
300 yards of A29 then took us back on rural lanes behind Fontwell racecourse to Level Mare Lane where we crossed the very nasty and busy A27.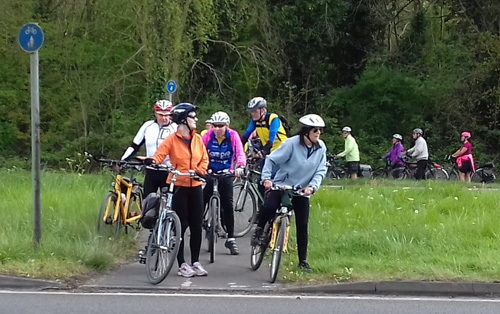 A short run then brought us to Aldingbourne Country Centre. The centre is having significant building work done and the main gate is locked. Access is via a temporary car park at the rear field. It also appears that the "Rear entrance" may not be accessible either.
After a welcome refreshment stop, we set off for home via Halnaker Barn Lane. Here the ride split, with a group opting for a longer route home via Tinwood Lane, Halnaker, Boxgrove, Tangmere and Oving.
I led the rest of us on a shorter return via Crockerhill, Aldingbourne village, and Hook Lane, then to Shripney via Lidsey. From there back roads through South Bersted to Bognor centre.
The return mileage from, and back to, Bognor library, was 18.5.
Graham
Posted by RideLeader at 21:50 BST