Sunday 19th September. Ride to Exton
Today I was leading a ride to Exton near Corhampton in the Meon Valley. I was joined at Chichester Cross by Colin and Gill. Colin arrived a little late having been delayed by having to overtake cars jammed up to get to the Goodwood Revival. The weather was dry, mainly cloudy though with a few sunny spells and a strong SW wind. Temperatures were about 17C.
I led the group out first on the Centurion Way and then cut across to West Stoke and Funtington. Then it was up the valley via West Marden to stop for elevenses at Compton.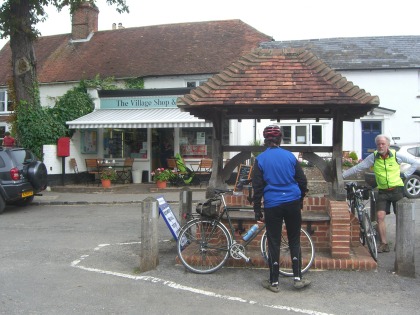 Then it was across to the road from Finchdean and a gradual climb up through the woods of Buriton Hill. After Buriton we took the lane to cross the old A3 south of Petersfield. After going under the new A3 and getting ready to turn right to pick up the East Meon lane some kind marshals stopped the traffic for us. We thanked them and told them we were not on their event, a local Sportive Cycle Event.
After a pleasant lane we came into East Meon and went south up a lane we rarely use which winds its way among field before climbing sharply up to Teglease Down near HMS Mercury.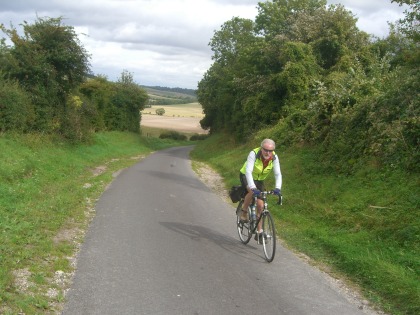 Then it was more lanes this time mainly in a downwards direction with some great views of the Isle of Wight and as far as Fawley. Then down to the Meon Valley and lunch at The Shoe Exton.
In the afternoon it was lanes with a fair few ups and downs south along the Meon Valley via Droxford and Soberton. Then another lane east to Hambledon, After heading towards Denmead we turned off on another lane east to Cathrington and a very sharp steep climb up a hill called unimaginatively Road Hill.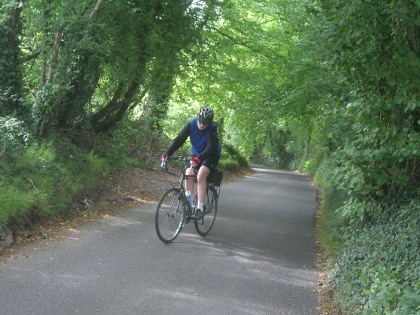 Then it was lanes to Horndean and a good pace with a tailwind to Rowlands Castle. I managed a very large portion of Apple Pie and Ice Cream and Gill had a piece of Bread Pudding so enormous that she couldn't finish it.
Then it was back via Westbourne and the South Coast Cycle Route lanes.
Return mileage from Chichester Cross was 57. My mileage was 68.
Edwin
Posted by RideLeader at 19:52 BST