Sunday 24th October. Ride to West Stoke. AGM.
The official ride today was quite short from Chichester Cross to West Stoke Village Hall for the Group's AGM. I was the leader and I was joined at the Cross by Harvey, Avryl, Gill and Arthur and Lynn. More made their own way direct to the Hall by Bike or car with a total of 15 at the meeting.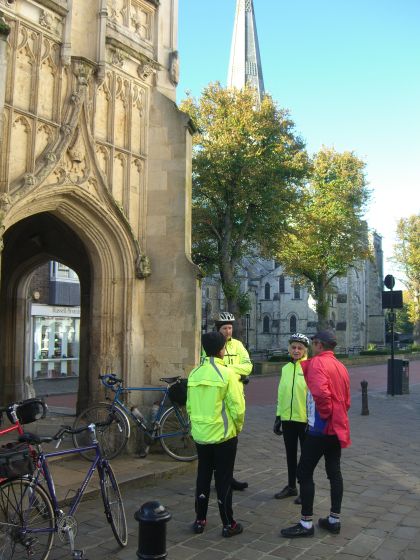 The weather today was clear blue skies but chilly especially early on with temperatures eventually reaching 10 C.
I led the group west out of Chichester on Clay Lane and then a lane north to East Ashling and then lanes over to West Stoke. There were a lot of other cyclists about with at one stage a group of about 15 passed us while another group of 10 were riding in the other direction.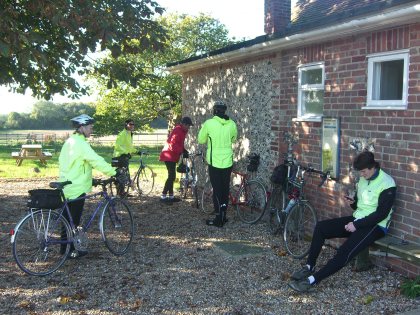 At the meeting there were no changes in the Committee. The official business finished at about 12.00. We then got on with the serious business of teas and coffees served by Mary and Freda and picnic lunches.
I suggested extending the ride by going over to Aldingbourne. I was joined by Harvey, Colin, Anne and Gill. We rode via Lavant and then the climb up to Goodwood Racecourse. Then it was along the top of the Downs with great views down to the coast. Then it was a particularly long downhill via Eartham to Aldingbourne for an early tea. Here we met John Maxim finishing his lunch
The official ride distance return from Chichester was very short, about 10 miles. With the extension my mileage for the day was 38.
Edwin
Posted by RideLeader at 19:14 BST