Sunday 14th of November. Ride to Pulborough for the DA AGM
The meeting point today was Walberton pond. I was the leader and I was joined by Colin and Anne. We had an early 9 AM start. The weather was initially dry but it soon started a steady light rain and it stayed wet the rest the day. Temperatures were about 10 C but there was very little wind.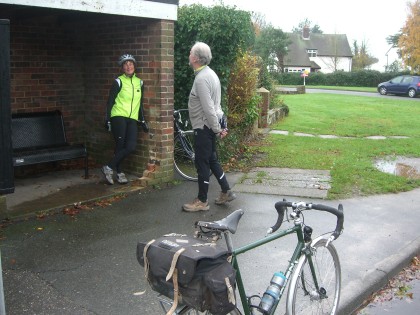 As everybody in the group was what you might call a fast rider I set a very fast pace as I wanted to be at Pulborough in time to put out the paperwork before everybody arrived. We took a route out of Walberton and then up to the A29. Then we rode along the lanes via Madehurst and up to Whiteways Lodge. As a change from the usual route I then headed down Bury Hill and then onto lanes eventually coming out at Fittleworth. From there it was a fast ride along the A272 to Pulborough Village Hall.
The AGM went very well with about 23 attending. Arthur Smith chaired the meeting and we observed the two-minute silence at 11 AM. The existing committee was re-elected without change. Arthur mentioned that despite the very abysmal weather most of those attending had come by bicycle. After the meeting we got ready to leave from the handy bike park just outside the hall.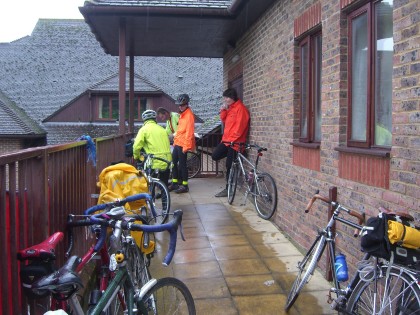 Horsham Section went to lunch at the nearby Oddfellows Pub. We and Arun Adur members went to the Rising Sun at Nutbourne. While we had lunch the rain outside became gradually heavier. Upon leaving we got ready with heavier waterproofs and Dave and Richard compared their capes.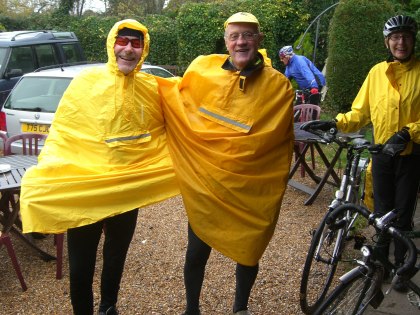 For the return ride I let our group on the usual route via Amberley and then on to Houghton. Here we split up with Colin and Anne deciding to take a longer route via Duncton Hill. I continued with a climb up Houghton Hill and then straight home.
The ride from and back to Walberton was 30 miles. My mileage for the day was 47.
Edwin Jones
Posted by RideLeader at 19:46 GMT