Sunday 24 January. Ride to Wiston Cafe
The weather today was very mild after last weeks freeze with temperatures up to 11C. There was heavy rain overnight leading to flooded and muddy roads. First thing there was a little drizzle and a lot of mist on the coast and on the Downs. The following picture was taken from the Prom soon after 8.00am.
Colin was down to lead the ride today but when he advised he couldn't make it due to a bad cold and cough I stepped in. However at Walberton Pond only Paul joined me for the ride. We headed out via Fontwell, the Tunnel under the A27 and Slindon Bottom Road through the Mist wreathed woods. Then up towards Eartham.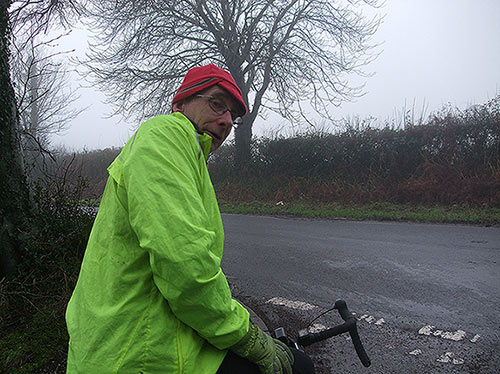 Higher up on the Downs the mist was thicker but cleared when we descended Duncton Hill to go north of the Downs. We rode on muddy lanes across to Fittleworth and then a bit of main road to stop for elevenses at the Garden Centre at Stopham Bridge.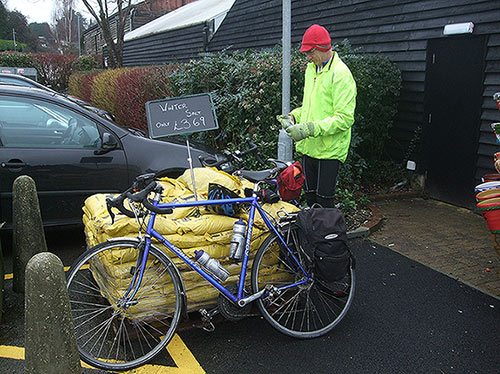 Then it was on via Pulborough and West Chiltington and then the B-Road to Ashington and on to Wiston Granary Cafe where we arrived at 11.50 and had it to ourselves until parents and kids arrived to buy corn to feed the Chickens and Ducks which are a feature of the Cafe. I noticed from the following picture how Paul and I have bikes with coincidentally the same shade of blue despite being different makes of bike.
The return route was more direct. We took a short stretch of main road before turning of onto a lane signed appropriately Hollow as we passed a gigantic hole in the ground from a quarry. Then it was a footpath crossing of the A24 before taking more lanes to the back of Storrington and on to West Chiltington and Wiggonholt. We missed a tea stop to be sure of getting home before dark. The return was via Amberley and Houghton Hill.
Mileage from and back to Walberton was 45. My mileage from Pagham was 64.
My latest HDR picture was taken during the freeze on Wednesday. I went to South Stoke before dawn to get frost pictures. It was about minus 3 and the water in my water bottle froze solid.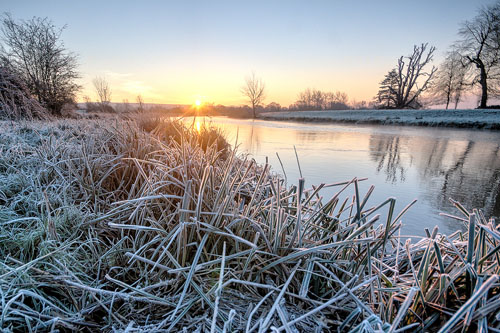 For a larger picture and more details see https://www.flickr.com/photos/edwinjones/24528203106/in/dateposted-public/
Edwin
Posted by RideLeader at 18:01 GMT