Sunday 17 October. Ride to Hayling Island
Today's ride was led by Arthur and he was joined at the Cross by Lynn, Myself, Avryl, Harvey and Colin. Alan and Liz joined us at elevenses and Gill at lunchtime making 8 out for the day.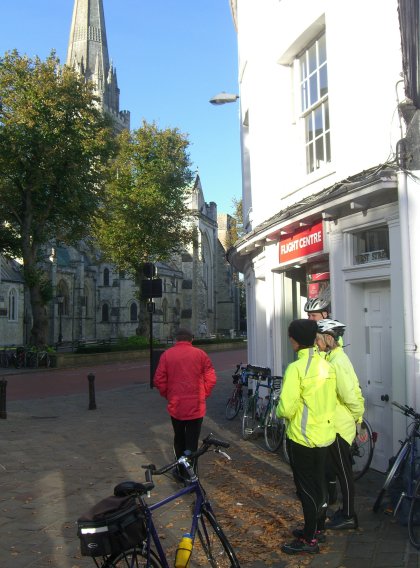 The weather today was bright and sunny but much cooler than of late being only about 4C first thing and a maximum of 14C.
Today was a day for spotting strange loads on bikes. On the way to elevenses there was a kid on a butchers bike and another carried in the basket. At Hayling as we were about to leave a man cycled by with a dog tucked under his arm.
From Chichester Arthur led us on the South Coast Cycle Route lanes via Woodmancote and Westbourne and then across to Emsworth and the Greenhouse Cafe for elevenses.
Next it was to Havant and down the first part of the Hayling Billy trail. After the bridge we took the lanes via Nortney and then more lanes to West Hayling before heading along the Sea Front to the Coastguards Cafe.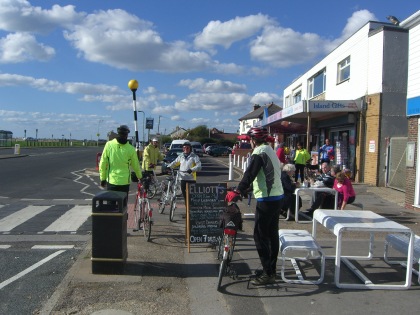 After lunch it was up the main road a little way before turning off on the Northney lanes. After the bridge we took a walk along the Harbour Path before turning off pick up a back road to Havant.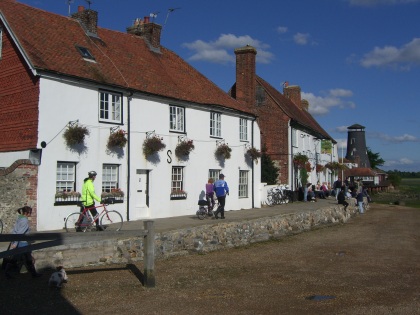 Then it was back to Chichester with a stop for tea at Fishbourne Roman Palace.
Mileage from and back to Chichester was 35. My mileage for the day was 47.
Edwin
Posted by RideLeader at 19:21 BST