Thursday 26 May. Evening Ride to the Old Stables Fontwell
A glorious evening, sunny and with no wind to speak of, saw 15 riders meeting at the leisure centre for tonight's ride out to Fontwell. Edwin joined us later straight from Time Trialing, so 16 out in all.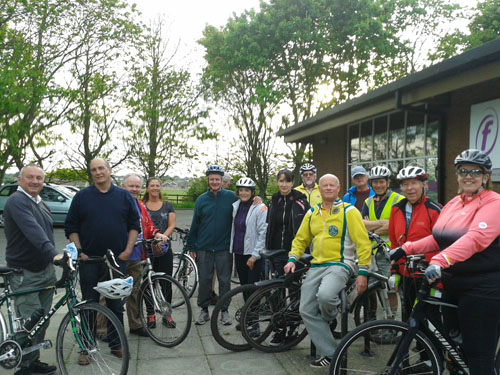 Suzanne, Carol, Steve, Dave S, Dave R, Dave B, Michelle, Maureen & Husband, Julian, John, Mike, Alan, Russ And I set off round the back of Felpham, through the new estate and then dropped on to the Barnham cycle track by way of Stanover Lane, which is the old route that existed when the whole area was still fields. due to its sheltered position it is often muddy, however no rain had fallen for a few days and additionally it seems to have had another surface dressing applied, so it was quite dry. It is the developers stated intention to restore this route properly for cycling, although its clearly not a priority job
We followed the Cycleroute through the fields to Barnham, then it was more new cycle track to Walberton green, up the incline that is west Walberton lane, and into Fontwell village. a short hop along what used to be the A27 brought us to the old stables.
after suitable refreshment, we headed back to Bognor but had not gone 200 yards when Maureen pulled up with a flat tyre. after some deliberation, a temporary fix with foam was applied, which almost got her back home although unfortunately the repair did not last.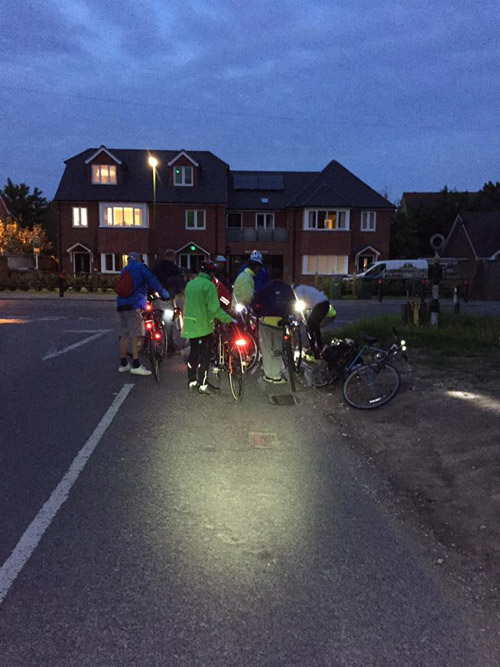 Our route back was via Denman's lane and the rough tracks of Northfields Lane, emerging on the A29 at the island in Westergate. Then down the A29 to Shripney, with the following traffic not sure how to safely overtake a long line of cyclists.
At the junction with the relief road the ride split, those heading for Felpham and Middleton taking the cyclepath along the relief road, and those heading for Bognor heading down the cycletrack to the Chichester road.
The round trip mileage was 15.6
Graham
Posted by RideLeader at 00:01 BST